Oxnard Truck Accident Kills 2 Young Women
Posted on January 12, 2023
OXNARD, CA (January 11, 2023) – Early in the morning on Sunday in Oxnard, CA, two young women were killed in a crash on Perkins Road. The January 8 crash occurred where Campbell Way intersects.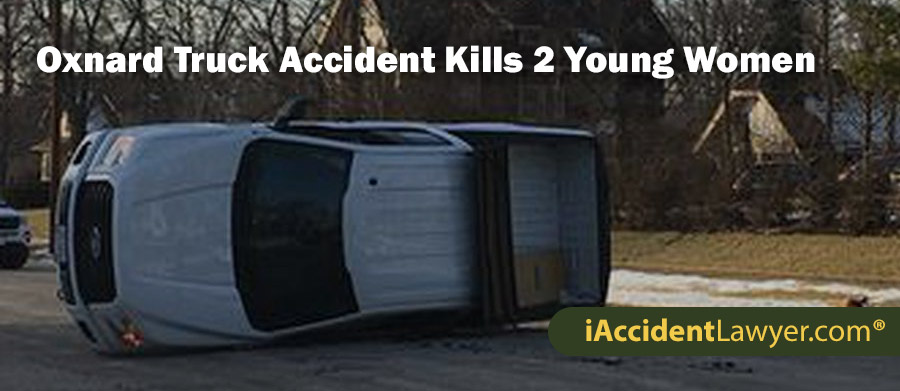 Jennifer Antillon and Irasema Rodriguez Killed in Tragic Oxnard Pickup Truck Accident
The time was roughly 3:58 a.m., Oxnard Police said.
A vehicle–described as a Ford F-150 pickup truck–had been traveling on Perkins Road and going south.
For reasons that are not known, the pickup truck smashed into a number of vehicles that were parked along the roadway.
The pickup truck ended up on its side following the crash.
Responders from the Oxnard police and fire department arrived to help, but the two occupants died at the crash site.
The two young women were later identified as Jennifer Antillon, 21 years old, and Irasema Rodriguez, 23 years old. Antillon had been the driver, authorities said.
Investigators are continuing their work to collect details regarding the crash. If anyone has information about the incident, the person can contact Andrew Pinkstaff, who is a corporal.
The number is 805-385-7750.
---
---
Tips for Driving at Night
Night driving is more difficult than day driving because it is harder to see in darkness. Use more caution when driving at night, and allow more time and distance to allow for stopping.
Know where all the features necessary to drive at night are located in your vehicle, such as how to turn on the headlights, the high beams, and the wiper blades.
In urban areas with street lights, headlights will give you illumination to see the road in front of you. In areas that are rural, use the high beams to see the road. Be sure to switch back to regular headlights when you see a vehicle approaching so you don't blind the other driver. Do not use high beams when you are behind another vehicle.
Slow down and pay attention to the roadway, as sometimes pets or wild animals such as deer and coyotes will dart out in front of your vehicle.
Be aware of what other drivers are doing, especially at night, as drivers who are driving under the influence can be more likely at night. Give other drivers space, and if you see someone driving erratically, pull over and call for help.
Focus on your driving, especially at night. Don't look at your cell phone or give your attention to the radio or other devices in your car.
Pay attention to how you are feeling. Darkness can make people drowsy, and you might not notice if you start to fall asleep. Pull over in a safe place if you find that you cannot stay awake.
Make a plan before you go out. If you are going to drink, have a designated driver who is sober. Even if you are not drinking, know your capabilities, and if you are able to drive at night because of reduced visibility and your susceptibility to fatigue. It is sometimes easy to forget that how you feel at the beginning of an evening will be different from how you feel at the end of an evening, and in the early morning hours. If you find you cannot drive after a late night, don't try. Make other arrangements to stay somewhere or have someone else drive.
Hire an Accident Attorney in Oxnard
If you or a loved one has been injured in an auto collision, Accident Lawyer strongly encourages you to call our Oxnard car accident lawyers. Your experienced Car Accident Lawyer Oxnard will provide you with the best legal representation and guidance that you need. Our offices are conveniently located throughout California and we conduct regular travels in the region to meet with clients. Contact Car Accident Lawyer today.
Oxnard, CA Related Accident News From iAccident Lawyer
Oxnard Boat Crash in Channel Islands Harbor Causes Injuries
Carmen Ramirez, Ventura County Supervisor, is Struck and Killed in Oxnard, CA
Teen Driver Dies from Injuries after Oxnard Crash on Pleasant Valley Road