Los Angeles Traffic Deaths Nearing All Time High
Posted on March 2, 2023 | Written By: Donald Stevenson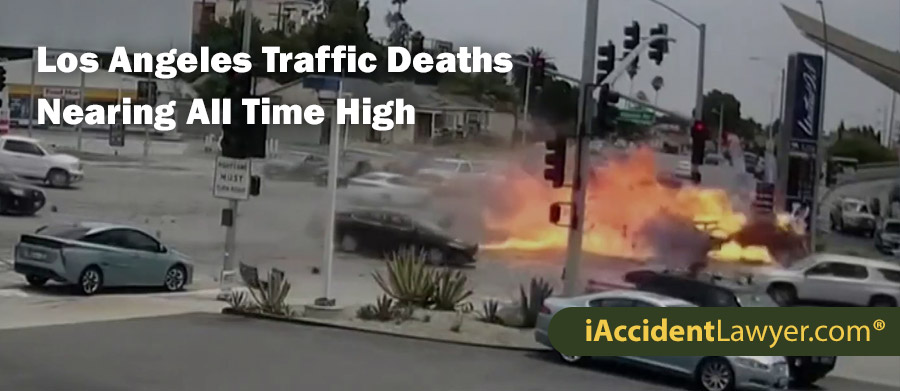 Whether you travel to work in Los Angeles via one of its many congested freeways or use surface streets with your bike, it is highly probable that you have encountered a car accident. Unfortunately, car accidents are a frequent occurrence on L.A. roads, and the latest data analyzing 2022 car accident statistics suggests that it's not good news for drivers, pedestrians, or cyclists. Despite the city's Vision Zero initiative aimed at ending traffic fatalities by 2025, traffic accidents and fatalities continue to increase across Los Angeles.
Traffic Fatalities In Los Angeles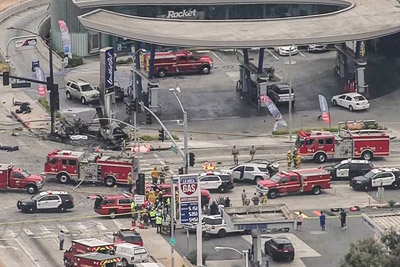 L.A.-based advocacy group, Streets Are For Everyone (SAFE), has reported that 312 traffic fatalities occurred in 2022, marking the highest number in two decades. SAFE's report draws on data from the UC Berkeley Transportation Injury Mapping System (TIMS) and the Los Angeles Police Department Open Data Portal, revealing that traffic deaths in 2022:
increased by 5% since 2021
increased by 28% since 2020
According to SAFE's executive director, the sharp rise in traffic-related deaths in 2022 can be attributed to two key factors – disregard for speed limits and distracted driving. Moreover, the Los Angeles Times reported that the number of traffic accidents in L.A. exceeded national trends. The Times cited statistics from the National Highway Traffic Safety Administration, which showed that fatalities resulting from traffic crashes remained relatively stable across the country in the first nine months of 2022 compared to 2021. While the number of cyclist and pedestrian fatalities increased nationwide in 2022, the percentage rise was lower than what was seen in Los Angeles.
Being a Pedestrian or Bicyclist Has Never Been More Dangerous in L.A.
Pedestrians and cyclists remain the most at-risk groups on the road, particularly in densely populated urban regions such as Los Angeles. The study uncovered that pedestrian fatalities rose by 20% from the previous year, comprising 159 of the total 312 traffic fatalities. Similarly, bicyclist fatalities rose by 18%, resulting in 21 deaths. Conversely, there was an 8% reduction in motor vehicle fatalities in 2022.
Top Reasons For These Los Angeles Vehicular Fatalities
Although there is no official data yet available on the cause of traffic accidents in 2022, SAFE has examined data from prior years to identify the probable causes of traffic incidents in L.A.. The study indicated that speeding was the leading contributor to injuries and fatalities, responsible for 34.8% of all accidents. Other factors that played a role include:
Drunk Driving
Walking In A Cross Walk
Jay Walking
Not Obeying The Right of Way
Illeagal Turns
Aggressive Chaning of Lanes
Malfunctioning Signals
Unseen Traffic Signs
Another significant factor is distracted driving, which is a well-known cause of avoidable traffic accidents, not only in Los Angeles but also throughout the United States. The National Highway Traffic Safety Administration (NHTSA) reported that distracted drivers caused 3,142 traffic fatalities in 2020.
Texting, talking, eating and drinking, applying makeup, and personal grooming are among the common distracted driving behaviors in L.A..
Worst Intersections in City of Los Angeles
Los Angeles, the second largest city in the U.S., is home to nearly 4 million inhabitants dispersed throughout 88 cities and over 400 neighborhoods. With over 6,500 miles of streets that include busy interstates and highways, congested intersections, and serene neighborhood streets, L.A. has a diverse range of roadways. Here are some of the most perilous intersections and streets in Los Angeles County:
Interstate 5 Santa Ana Freeway
Interstate 10 Santa Monica Freeway
Interstate 405 San Diego Freeway
Avalon Blvd and Imperial Hwy
Balboa Blvd and Saticoy St
Cahuenga Blvd and Selma Ave
Figueroa St
Florence Ave and Vermont Ave
Hollywood Blvd and N. Highland Ave
San Pedro St and Washington Blvd
Sherman Way and Sepulveda Blvd
Sierra Hwy
Western Ave
---
---
If You Have Been Injured in a L.A. Traffic Accident
Our personal injury law firm can help if you or someone you know has been injured or killed in a traffic accident. Our experienced Los Angeles personal injury attorney, Donald Stevenson, will help you navigate the legal complexities of filing a personal injury claim and recovering financial compensation. As part of our contingency fee arrangement, we never charge for our services until you get paid. The i Accident Lawyers offers a 100% free consultation to get started. Call us at (800) 920-0810.
Hire an Accident Attorney in Los Angeles
If you or a loved one has been a victim of Road Rage, i Accident Lawyer strongly encourages you to call our Los Angeles car accident lawyers. Your experienced Car Accident Lawyer Los Angeles will provide you with the best legal representation and guidance that you need. Our offices are conveniently located throughout California and we conduct regular travels in the region to meet with clients. Contact Car Accident Lawyer today.
Helpful Links
California Highway Patrol (Los Angeles Office)
NHTSA Crash Statistics
Los Angeles Traffic Accident News
How To Avoid Road Rage When Navigating Los Angeles Grid Lock
L.A. Hit and Run Crash Kills Dirt Bike Rider in Hyde Park Area
Anne Heche Crashes into Los Angeles House and is Seriously Injured
Accident attorney, Donald Stevenson, is a legal expert and has been practicing law for over 25 years. Donald has been a ruthless fighter, going after insurance companies to get his clients the highest settlement available. His desire to help more people in their time of need has caused him to expand across three states (California, Nevada, and Colorado) to bring his talent to as many people as possible.