Huntington Beach Man Suffers Major Injuries By Hit-and-Run Driver
Posted on May 15, 2023 | Written By: Cliff Bui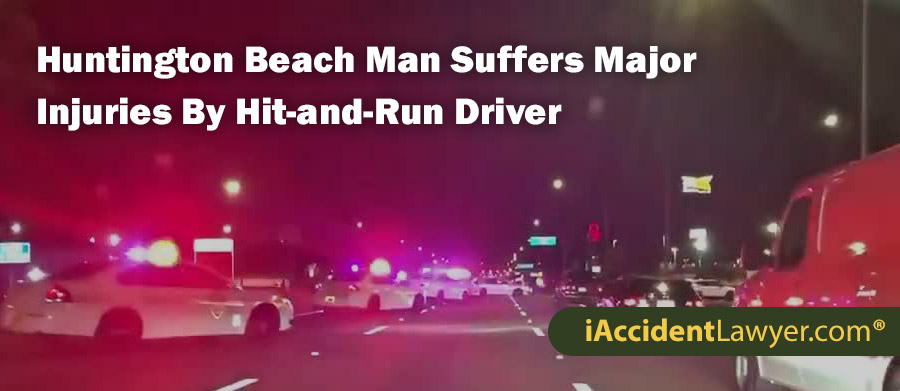 Hit and Run Accident Send Man To Hospital In Huntington Beach
Huntington Beach, CA (May15, 2023) – Late on Thursday evening, May 11, a 34 year old male fell victim to a hit-and-run crash on Beach Boulevard in Huntington Beach, sustaining severe injuries in the process.
The incident occurred at approximately 11:25 p.m. at the intersection of Beach Boulevard and Stark Avenue. According to the Huntington Beach Police Department, a male pedestrian was crossing the street when an oncoming vehicle struck him in the northbound lanes.
Cowardly Driver Flees Scene. Offers No Assistance To Victim
In a shocking turn of events, the driver of the vehicle involved callously fled the scene without offering any assistance or aid to the injured pedestrian.
Promptly responding to the distress call, paramedics arrived at the scene and quickly attended to the severely injured man. With a sense of urgency, they rushed him to a nearby hospital for further medical care.
HBPD's Investigation Continues
The Huntington Beach Police Department has initiated a thorough investigation into the hit-and-run incident. Law enforcement officers are diligently working to gather any available evidence, including surveillance footage and witness statements, to identify the driver responsible for the callous act and bring them to justice.
This incident serves as a sobering reminder of the grave consequences that result from hit-and-run accidents and emphasizes the importance of drivers staying at the scene of an accident and providing aid to those in need. The community of Huntington Beach stands united in their support for the injured pedestrian and hopes for his swift recovery.
---
---
What Is The Safest Way To Cross Beach Boulevard?
Crossing an 8-lane boulevard can be challenging and potentially dangerous, so it's important to prioritize safety. Here are some guidelines for crossing such a busy road:
Use designated crosswalks: Look for marked crosswalks and traffic signals specifically designed for pedestrians. These areas are generally safer for crossing as drivers are more likely to anticipate and yield to pedestrians.
Observe traffic signals: Follow the traffic signals at intersections. Wait for the pedestrian signal to indicate that it's safe to cross, typically with a green light or a walking symbol.
Assess the road conditions: Consider the traffic flow and speed of vehicles on the boulevard. If there is heavy traffic or vehicles are moving at high speeds, it may be safer to wait for a lull in traffic or seek an alternative route, such as finding a pedestrian bridge or underpass.
Look for gaps in traffic: When there is no traffic signal or designated crossing, wait for a safe gap in traffic before attempting to cross. Make sure you have a clear view of all lanes and check for any approaching vehicles.
Make eye contact with drivers: Before stepping onto the road, make eye contact with drivers to ensure they see you and are aware of your intention to cross. This can help reduce the risk of a collision.
Be visible: Wear bright or reflective clothing, especially in low-light conditions, to increase your visibility to drivers.
Stay alert and focused: Avoid distractions such as using your phone or wearing headphones while crossing the boulevard. Stay attentive to your surroundings and be prepared to react quickly if necessary.
Cross in a straight line: Walk in a straight line and avoid weaving between lanes. This makes it easier for drivers to anticipate your movements and reduces the chances of confusion or accidents.
Be patient and cautious: If you're unsure about the safety of crossing, it's better to wait and find an alternative route or ask for assistance from traffic officials or other pedestrians.
Remember, the specific rules and regulations for pedestrians crossing a boulevard may vary depending on your location, so it's always advisable to follow local traffic laws and guidelines for pedestrian safety.
Hire an Accident Attorney Near Huntington Beach, CA
If you or a loved one has been injured in an auto collision, Accident Lawyer strongly encourages you to call our Huntington Beach car accident lawyers. Your experienced Car Accident Lawyer will provide you with the best legal representation and guidance that you need. Our offices are conveniently located throughout California and we conduct regular travels in the region to meet with clients. Contact Car Accident Lawyer today.
Recent Accident News Near Huntington Beach, CA
1 Man Dies in Motorcycle Accident on Yorktown Ave. near Waterbury Ln. in Huntington Beach, CA
Edward Corral Killed in Hit-and-Run Crash in North Long Beach
Geronimo Reynaga Killed in Rollover Accident on PCH in Long Beach
Cliff Bui has been working as a Lawyer at Accident Attorneys' Group for 9 years. Accident Attorneys' Group is part of the Law Firms & Legal Services industry, and located in California, United States.
Law School: Loyola Law School, Loyola Marymount University
Status: In Good Standing
Licensed: 24 years