1 Man Dies in Motorcycle Accident on Yorktown Ave. near Waterbury Ln. in Huntington Beach, CA
Posted on March 10, 2023 | Written By: Corey Higgins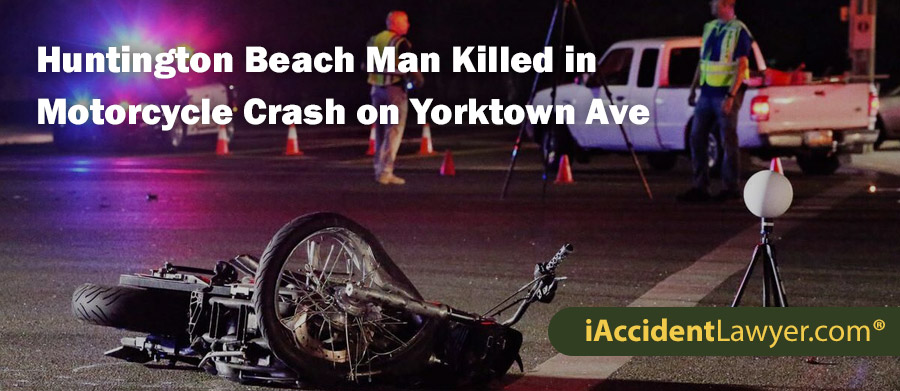 25 Year Old Huntington Beach Male Dead in Motorcycle Crash on Yorktown Avenue
HUNTINGTON BEACH, CA (March 9, 2023)— A fatal motorcycle accident occurred on Yorktown Avenue, close to Waterbury Lane, resulting in one person losing their life.
According to Huntington Beach Police, he was riding a 2010 Husqvarna east on Yorktown Avenue when he apparently lost control and went down west of Waterbury Lane at 2 a.m. Huntington Beach police spokeswoman Jessica Cuchilla said the man was described as a 25-year-old Huntington Beach resident.
The unidentified motorcyclist sustained fatal injuries.
Huntington Beach Police detectives are currently unsure if impairment was a contributing factor in the incident. However, an ongoing investigation is underway to confirm the details.
In case anyone witnessed the crash, please contact Investigator D. Demetre at 714-536-5670.
We extend our heartfelt condolences to the family and friends of the victim during this difficult time.
If you have lost a loved one due to the negligence of a driver or due to inconsistencies in the road work, you have the right to file a wrongful death claim. Though these claims can be complex, Legal Experts at iAccident Lawyer possess the expertise to assist you in navigating the legal system.
We comprehend the legal system and will work towards getting you the maximum settlement possible to ease your pain and suffering. While no amount of compensation can replace your loss, legal options are available to help you seek justice. Schedule a free consultation with Corey Higgins by calling (800) 920-0810.
Here are some safety tips for riding a motorcycle at night:
Wear reflective or bright-colored clothing: This will help make you more visible to other drivers on the road.
Use your headlights and high beams: Make sure your headlights are in good working order and use your high beams when appropriate to increase your visibility.
Check your mirrors frequently: Stay aware of your surroundings and check your mirrors often to keep an eye out for other vehicles.
Avoid riding in blind spots: When riding at night, it's especially important to avoid riding in another driver's blind spot.
Slow down: At night, your visibility is reduced, so it's important to slow down and give yourself more time to react to any unexpected obstacles or hazards on the road.
Increase your following distance: Leave plenty of space between you and the vehicle in front of you to give yourself more time to react.
Watch out for animals: Wildlife is more active at night, so be on the lookout for animals crossing the road.
Be prepared for changing weather conditions: Temperatures can drop rapidly at night, so make sure you're dressed appropriately and carry rain gear if necessary.
Stay alert and focused: Riding a motorcycle at night requires extra concentration, so make sure you're well-rested and alert before heading out.
By following these safety tips, you can help ensure a safer and more enjoyable riding experience at night.
---
---
Hire a Motorcycle Accident Attorney in Huntington Beach
If you or a loved one has been injured in a motorcycle collision, iAccident Lawyer strongly encourages you to call our Motorcycle accident lawyers.
Your experienced Motorcycle Accident Lawyer will provide you with the best legal representation and guidance that you need. Our offices are conveniently located throughout California and we conduct regular travels in the region to meet with clients. Contact iAccident Lawyer today or call 800 910-0810.
Recent Huntington Beach Accident News
Huntington Beach Police Officer Injured in Motorcycle Accident
Huntington Beach Crash at Brookhurst Street Kills One, Injures One
Huntington Beach Hit-and-Run Crash Kills Elderly Man; Suspect Arrested
Jeremy and Joshua Page, Teen Brothers, Killed In Huntington Beach Crash
Corey Higgins has been working at Accident Attorneys' Group for 2 years. Accident Attorneys' Group is part of the Law Firms & Legal Services industry, and located in California, United States.
Accidental Attorney's Group provides personal injury and accident related legal services for the entire state of California. The Group serves injury victims of numerous types of accidents such as car, truck, personal injuries, dog bites, slip and fall and more.
Law School: Whittier Law School
Status: In Good Standing
Licensed: 14 years