Bakersfield Tow Truck Rollover Kills 1
Posted on September 16, 2023 | Written By: Lance Kirk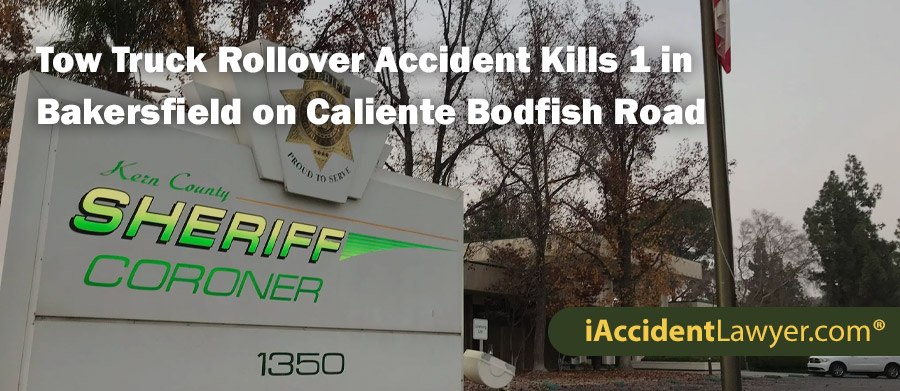 Tow Truck Rollover Accident Kills 1 in Bakersfield on Caliente Bodfish Road
Bakersfield, CA (September 15, 2023) – A tragic accident unfolded on Caliente Bodfish Road in Kern River Valley, resulting in the loss of a driver's life in a tow truck rollover incident.
Kensworth Flat Bed Tow Truck Carrying Mazda Loses Control and Rolls Over Killing Driver
According to the California Highway Patrol (CHP), the fatal accident occurred shortly before 2:30 p.m. this past Monday. The incident involved a flatbed tow truck carrying a Mazda vehicle on its platform, and for reasons yet unknown, the 68-year-old male driver lost control of the vehicle. This loss of control prevented the driver from navigating the roadway, ultimately leading to the overturning of the Kenworth tow truck.
The violent rollover caused the Mazda, which was occupied by three passengers, to be ejected from the flatbed. Upon receiving reports of the accident, CHP officers swiftly responded to the scene. Tragically, they discovered the tow truck's operator pinned inside the vehicle, and he was pronounced deceased at the scene.
3 Adult Passengers Inside Mazda Miraculously Survived The Crash
Fortunately, the three adult passengers in the Mazda survived the harrowing crash. Paramedics attended to them and transported them to Kern Medical for the treatment of minor injuries.
While authorities do not suspect impairment played a role in the tragic accident, a comprehensive investigation is now underway to uncover further details regarding the circumstances that led to this devastating incident.
---
Location Where A Tow Truck Crashed On Caliente Bodfish Road
---
Hire an Accident Attorney Near Bakersfield
If you or a loved one has been injured in an auto collision, Accident Lawyer strongly encourages you to call our Bakersfield car accident lawyers. Your experienced Car Accident Lawyer will provide you with the best legal representation and guidance that you need. Our offices are conveniently located throughout California and we conduct regular travels in the region to meet with clients. Contact Car Accident Lawyer today.
Recent Accident News Near Bakersfield, CA
Bakersfield Teen Suffers Critical Injuries after being Struck by Car
Bakersfield Man Injured in Hit-and-Run Accident on Stockdale Highway near Renfro Road
52-Year-Old Vielka Gerardo Hit and Killed by Semi Truck on Highway 99 in Bakersfield
Lance Kirk has been working as a Attorney at AA Accident Attorneys for 11 years. AA Accident Attorneys is part of the Law Firms & Legal Services industry, and located in California, United States.
I represent Plaintiffs for various injuries and various forms of injustice, such as sexual harassment. I have a natural competitive spirit and sense of courtesy and respect for my clients. My goal as an attorney is to make sure every client walks away with a sense of closure and satisfaction in a time when the judicial system has been questioned and is suffering from a lack of financial support. I enjoy fighting insurance companies who refuse to pay fair value for damages that changes peoples' lives forever.