Simi Valley, CA – Woman with Child in Vehicle Suspected of DUI in Two Collisions
Posted on September 5, 2019 | Written By: iadminlaw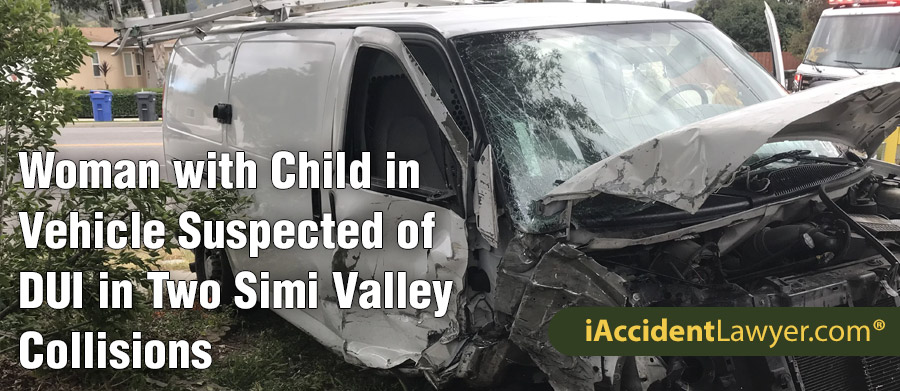 Woman with Child in Vehicle Suspected of DUI in Two Simi Valley Collisions
SIMI VALLEY, CA (September 5, 2019) – On Saturday night, a woman who is suspected of driving under the influence with her child in the vehicle was involved in two collisions. The incidents occurred in Simi Valley.
Reports say the woman had her child, who was identified as a one year old, in the vehicle with her when the first collision occurred, on Hazel Circle in the 6400 block. Bystanders are reported to have attempted to remove the child from the woman's vehicle, but she drove off.
The woman was involved in a subsequent collision, but reports do not say where that happened. It is not known if the collisions involved other vehicles.
Simi Valley Police made a traffic stop and pulled over the woman's vehicle. The driver was arrested, reports say, on suspicion of driving under the influence, felony child endangerment, and battery on a peace officer. It is reported the woman spat on one of the officers.
The driver was identified as Karen Haines, 34 years old. She was booked at Ventura County Jail.
Child Protective Services arrived for the child who had been in the vehicle.
Investigators are working on gathering details and information regarding the crashes.
---
---
Hire a Car Accident Attorney in Simi Valley
If you or a loved one has been injured in an auto collision, iAccident Lawyer strongly encourages you to call our Simi Valley car accident lawyers. Your experienced Car Accident Lawyer Simi Valley will provide you with the best legal representation and guidance that you need. Our offices are conveniently located throughout California and we conduct regular travels in the region to meet with clients. Contact Car Accident Lawyer today.