Sherman Oaks, CA – Multi-vehicle Collision Traps Driver in Van; Jaws of Life Used
Posted on November 9, 2018 | Written By: iadminlaw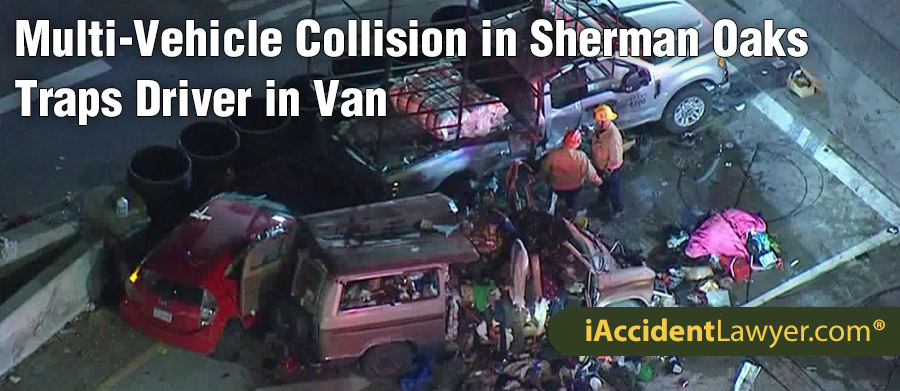 Multi-vehicle Collision in Sherman Oaks Traps Driver in Van; Jaws of Life Used
SHERMAN OAKS, CA (November 9, 2018) – A collision involving multiple vehicles in the evening on Wednesday in Sherman Oaks trapped a driver in a van. The November 7 collision occurred on West Greenleaf Street in the 15200 block, where the offramp for the 405 Freeway northbound is located.
The time was roughly 5:00 p.m.
According to reports, four vehicles, and possibly more collided. One of the vehicles was the van.
Responders from the fire department had to use the Jaws of Life to cut the van's top off to reach the driver who was trapped. Responders rescued three people from the wrecked van, which was full of clothing and other things.
Responders evaluated other victims at the accident scene. Reports say that six people, possibly more, were examined. Three people did not want to be taken to the hospital. Two of the accident victims suffered injuries that were described as not life threatening.
The other types of vehicles involved in the crash have not yet been reported, nor the identities of the people involved.
Investigators are exploring the information and details of the collision to determine what caused it.
---
---
Hire a Car Accident Attorney in Sherman Oaks
If you or a loved one has been injured in an auto collision, iAccident Lawyer strongly encourages you to call our Sherman Oaks car accident lawyers. Your experienced Car Accident Lawyer Sherman Oaks will provide you with the best legal representation and guidance that you need. Our offices are conveniently located throughout California and we conduct regular travels in the region to meet with clients. Contact Car Accident Lawyer today.