Santa Clarita, CA – Woman Suspected of DUI with Children in Vehicle is Arrested
Posted on July 16, 2020 | Written By: iadminlaw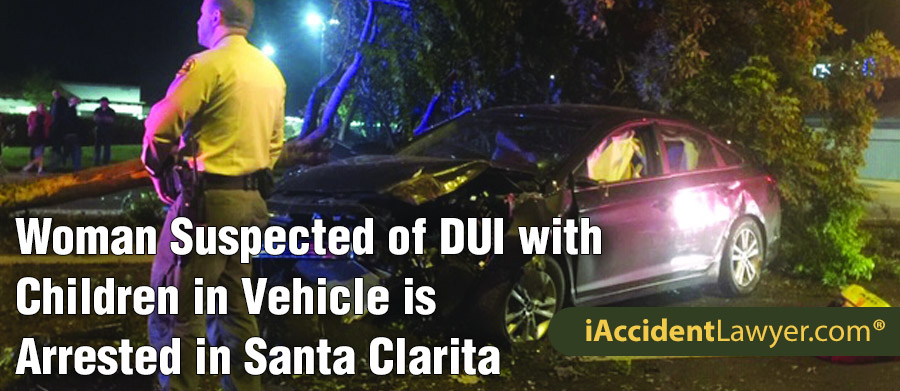 Woman Suspected of DUI with Children in Vehicle is Arrested in Santa Clarita
SANTA CLARITA, CA (July 16, 2020) – On Tuesday evening in Santa Clarita, a woman who is suspected of driving under the influence was arrested. The driver is alleged to have been DUI with two children in the vehicle with her in the July 14 incident.
The time was roughly 6:30 p.m., according to the Los Angeles County Sheriff's Department in the Santa Clarita Valley Station.
Reports say a person who witnessed the incident stopped a deputy and said that the person who was driving a vehicle–described as an SUV–seemed to be falling asleep while stopped at a stoplight.
Authorities saw the SUV at a stoplight close to where Whites Canyon Road and Soledad Canyon Road intersect. According to deputies, the driver had an infant on her lap.
A child in the backset–identified as a girl–did not have a seatbelt on. Reports say that according to deputies, the driver seemed to be falling asleep.
According to the Sheriff's Department, the driver is alleged to have had a breath alcohol test which was three times the legal limit. The driver was arrested for DUI, and felony child endangerment likely to cause great bodily injury.
The driver was identified as Melissa Mendoza, 30 years old. Investigators are working on gathering details and information regarding the incident.
---
---
Hire a Car Accident Attorney in Santa Clarita
If you or a loved one has been injured in an auto collision, iAccident Lawyer strongly encourages you to call our Santa Clarita car accident lawyers. Your experienced Car Accident Lawyer Santa Clarita will provide you with the best legal representation and guidance that you need. Our offices are conveniently located throughout California and we conduct regular travels in the region to meet with clients. Contact Car Accident Lawyer today.