Santa Barbara, CA – Car Strikes Power Pole and Knocks Down Line; Residents Lose Power
Posted on April 17, 2019 | Written By: iadminlaw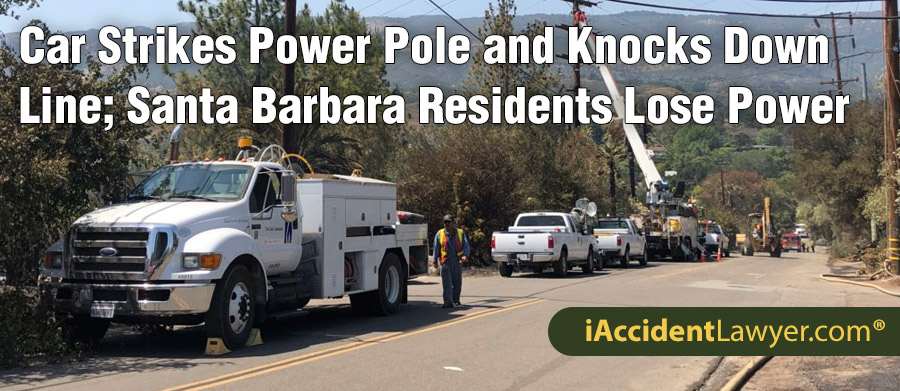 Car Strikes Power Pole and Knocks Down Line; Santa Barbara Residents Lose Power
SANTA BARBARA, CA (April 17, 2019) – A car struck a power pole and knocked down a power line on Tuesday night in Santa Barbara. The April 16 incident occurred in the area where Willowglen Road and Foothill Road intersect.
The time was roughly 10:52 p.m.
According to the Santa Barbara County Fire Department, a single vehicle struck the power pole, and the line fell. Minor injuries were reported, but no details have been reported on who was hurt, or how many people were hurt. The identity of the driver, including the person's name, age, gender, and city of residence, has not been reported. It is not known if anyone else had been traveling in the vehicle at the time of the crash. The type of vehicle involved has not been described.
Roughly 1,145 residents lost power in the area of the accident after the car knocked the line down. Crew from Southern California Edison were working to restore power.
No details have been reported regarding the cause of the crash. Investigators are looking into the information to understand why it occurred.
---
---
Hire a Car Accident Attorney in Santa Barbara
If you or a loved one has been injured in an auto collision, iAccident Lawyer strongly encourages you to call our Santa Barbara car accident lawyers. Your experienced Car Accident Lawyer Santa Barbara will provide you with the best legal representation and guidance that you need. Our offices are conveniently located throughout California and we conduct regular travels in the region to meet with clients. Contact Car Accident Lawyer today.