San Gabriel, CA – Vehicle Crashes into Family's House, Causing Injuries
Posted on December 13, 2018 | Written By: iadminlaw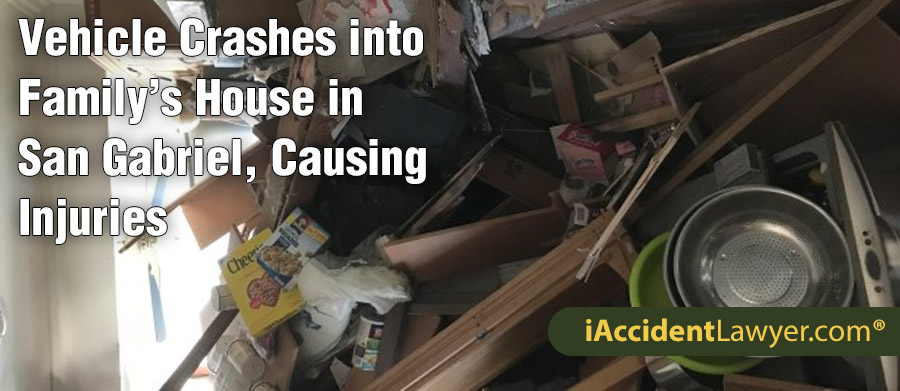 Vehicle Crashes into Family's House in San Gabriel, Causing Injuries
SAN GABRIEL, CA (December 13, 2018) – A Mercedes SUV smashed into a family's house in San Gabriel in the evening on Wednesday, causing injuries. The December 12 accident injured the driver as well as one person in the house.
According to reports, the person who had been driving the SUV lost control of the vehicle. The SUV went over a curb, moved over the holiday display in the yard, and then smashed into the living room.
A person who had been inside the house—identified as a woman—was struck by debris flying around. She was knocked down, to the floor. Reports say she suffered injuries that were minor.
Respondents took the driver to a hospital. According to reports, respondents think the person who had been driving the vehicle might have had a heart attack, which caused the accident.
The identity of the driver, name, age, and city of residence has not yet been reported. The identity of the woman was was hurt inside the house has not yet been reported.
The location of the house has also not yet been reported, nor the time the accident occurred. Investigators are looking into the details and information to find out why the accident happened.
---
---
Hire a Car Accident Attorney in San Gabriel
If you or a loved one has been injured in an auto collision, iAccident Lawyer strongly encourages you to call our San Gabriel car accident lawyers. Your experienced Car Accident Lawyer San Gabriel will provide you with the best legal representation and guidance that you need. Our offices are conveniently located throughout California and we conduct regular travels in the region to meet with clients. Contact Car Accident Lawyer today.