San Diego Co., CA – Collision Near Dulzura on State Route 94 Injures Motorcyclist
Posted on May 19, 2020 | Written By: iadminlaw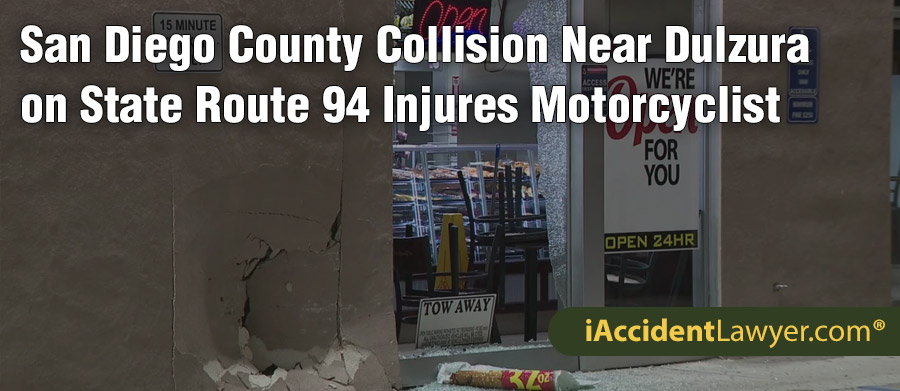 San Diego Co. Collision Near Dulzura on State Route 94 Injures Motorcyclist
SAN DIEGO COUNTY, CA (May 19, 2020) – A collision in San Diego County near the United States border injured a motorcyclist on Monday. The May 18 incident occurred close to Dulzura, on State Route 94 near where Freezer Road is located.
The time was roughly 11:15 a.m., Travis Garrow said. Garrow is an officer with the California Highway Patrol.
Reports say a man had been heading west on a motorcyclist when a vehicle–described as a Ford van–made a turn to Freezer Avenue, traveling in the path of the motorcycle. The bike struck the van's back end, and the impact threw the rider to the ground.
Responders with Cal Fire San Diego arrived on scene to help. The rider was transported by airlift to Sharp Memorial Hospital. The injuries he suffered were described as major, including a leg that was broken.
The current condition of the rider is not known. He was identified only as 59 years old and a resident of San Pedro. His name has not been reported.
The person who had been driving the van was reported uninjured in the crash. The driver was identified only as 48 years old. The person's name and city of residence have not been reported.
Investigators are working to gather information and details to help them understand the circumstances that contributed to the crash.
---
---
Hire a Car Accident Attorney in San Diego County
If you or a loved one has been injured in an auto collision, iAccident Lawyer strongly encourages you to call our San Diego County car accident lawyers. Your experienced Car Accident Lawyer San Diego County will provide you with the best legal representation and guidance that you need. Our offices are conveniently located throughout California and we conduct regular travels in the region to meet with clients. Contact Car Accident Lawyer today.