San Bernardino County, CA – Four-year-old Girl Killed in Crash in Cajon Pass When Driver Stops to Help Other Driver
Posted on March 25, 2021 | Written By: iadminlaw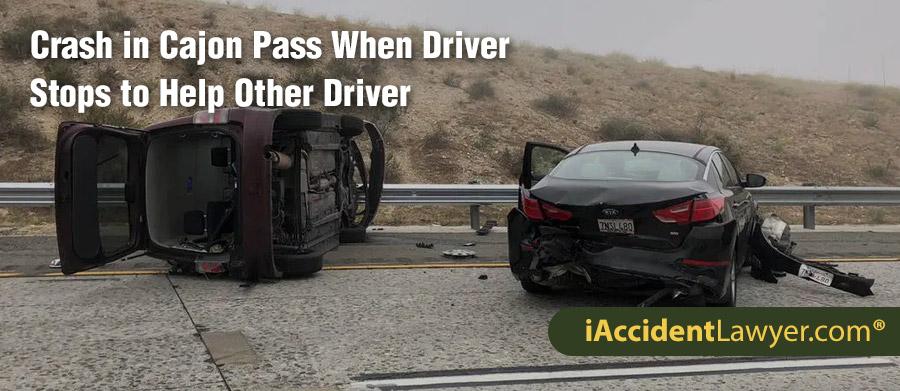 Four-year-old Girl Killed in Crash in Cajon Pass When Driver Stops to Help Other Driver
SAN BERNARDINO COUNTY, CA (March 25, 2021) – On Tuesday night, a crash on the 15 Freeway in Cajon Pass killed a girl when the vehicle she was sitting in was struck. The March 23 incident occurred on the southbound side of the freeway, near State Route 138 and to the north of it.
The time was a little before 8:00 p.m., the California Highway Patrol said.
According to reports, a man who was traveling with the girl in a Ford Explorer saw a crashed vehicle–described as a Hyundai sedan–on the freeway. The man stopped the Ford in the freeway's number 1 lane in front of the Hyundai.
The man went to offer help to the driver of the Hyundai, according to authorities. The man then re-entered the Ford.
A vehicle–described as a Kia sedan–that had been traveling on the freeway, hit the Hyundai, and the Hyundai was shoved into the Ford in front of it.
The force of the impact seriously injured the girl who was a passenger in the Ford. Responders took her to Arrowhead Regional Medical Center. She died in the hospital.
The girl was four years old. The girl's family has not been identified in reports.
The person who had been driving the Ford has not been identified. It is not known if he was hurt.
The drivers of the Hyundai and Kia have also not been identified. It is not known if they were hurt in the incident.
Investigators are continuing their work on the crash. If anyone has information about the incident, the person can call the San Bernardino office of the California Highway Patrol and ask for Officer R. DeGuzman. The number is 909-383-4247.
---
---
Hire a Car Accident Attorney in Cajon Pass
If you or a loved one has been injured in an auto collision, iAccident Lawyer strongly encourages you to call our Cajon Pass car accident lawyers. Your experienced Car Accident Lawyer Cajon Pass will provide you with the best legal representation and guidance that you need. Our offices are conveniently located throughout California and we conduct regular travels in the region to meet with clients. Contact Car Accident Lawyer today.