San Bernardino, CA – Deputy's Patrol Vehicle Launches in Air During Pursuit and Lands on Truck
Posted on March 2, 2020 | Written By: iadminlaw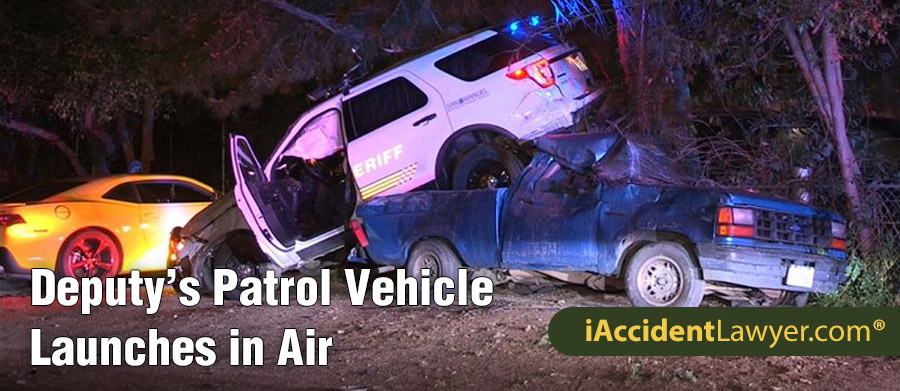 Deputy's Patrol Vehicle Launches in Air During Pursuit and Lands on Truck in San Bernardino
SAN BERNARDINO, CA (March 2, 2020) –  On Sunday night, the patrol vehicle of a San Bernardino County Sheriff's deputy launched in the air during pursuit of a suspect, and landed on a pickup truck. The March 1 incident occurred close to where Sunnyside Avenue and West Fifth Street intersect.
The time was roughly 8:00 p.m., according to Jodi Miller. Miller is a spokesperson with the Sheriff's Department.
Reports say the incident began when a driver would not stop for a deputy who tried to pull the driver over in the area of the Bobbett Drive and East Baseline Street intersection. The deputy began pursuing the vehicle.
During the pursuit, the vehicle the suspect was driving hit a vehicle in the vicinity of the West Fifth Street and Victoria Avenue intersection. According to reports, when a deputy arrived at the crash site, the vehicle the suspect was driving, and the vehicle the victim was driving, left the incident site.
Reports say a second patrol vehicle, which had been engaged in pursuing the suspect, went airborne in an intersection in the vicinity of Sunnyside Avenue and West Fifth Street. The patrol vehicle came down onto a pickup truck that was parked on the street, reports say.
According to Miller, the deputy did not need medical attention. The identity of the deputy has not been reported.
Investigators are searching for the suspect driver and the vehicle the suspect was driving. The suspect has not been described, nor has the vehicle.
The owner of the pickup truck that was crushed has not been identified.
---
---
Hire a Car Accident Attorney in San Bernardino
If you or a loved one has been injured in an auto collision, iAccident Lawyer strongly encourages you to call our San Bernardino car accident lawyers. Your experienced Car Accident Lawyer San Bernardino will provide you with the best legal representation and guidance that you need. Our offices are conveniently located throughout California and we conduct regular travels in the region to meet with clients. Contact Car Accident Lawyer today.