Police Chase Accident at Melrose Avenue In East Hollywood, CA Leaves Roberto Iglesias 3 Dead, Angel Aguiniga Arrested
Posted on March 28, 2023 | Written By: Donald Stevenson
Roberto Iglesias III Was Shot and Killed, and Angel Aguiniga Charged in Police Pursuit Crash at Melrose Avenue and Commonwealth Avenue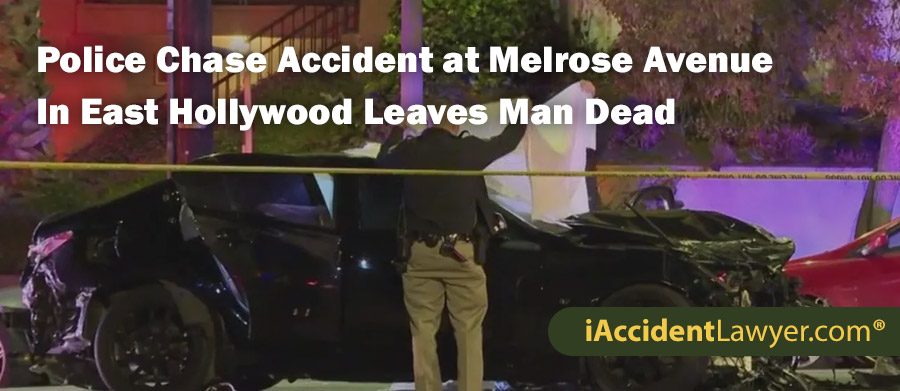 EAST HOLLYWOOD, CA (March 28, 2023) — At the intersection of Melrose Avenue and Commonwealth Avenue, a police pursuit led to an accident involving Roberto Iglesias III and Angel Aguiniga.
The California Highway Patrol reported that at approximately 3:30 a.m. on Saturday, a police pursuit ensued after CHP officers observed a black Infiniti speeding past them.
Lasting only a few minutes, the pursuit saw the Infiniti driver leading officers onto the 101 Freeway and eventually onto Melrose Avenue.
After losing sight of the vehicle, officers later discovered that it had collided with multiple parked cars to the west of Commonwealth Avenue.
Upon arrival at the scene, officers observed 20-year-old Angel Anthony Aguiniga from Lynnwood attempting to flee. However, they managed to apprehend him without any additional trouble.
At the scene, officials also discovered 20-year-old Roberto Iglesias III, the driver of the Infiniti, who had sustained a gunshot wound to the head. Although he perished during the incident, authorities have not yet determined the circumstances surrounding the driver's death or who discharged the firearm.
In case anyone possesses any relevant information regarding this accident, shooting, and police pursuit, they are urged to contact detectives at (323) 644-9550.
Our sincere thoughts and condolences are with the family and loved ones of Roberto Iglesias III during this difficult time.
If a police pursuit is happening near me, what should I do?
If a police pursuit is happening near you, it is important to stay away from the area and find a safe place to take shelter. Do not try to get a closer look at the pursuit or take any photos or videos. Avoid driving through the area, as the police pursuit may cause traffic delays or road closures. If you are in your vehicle and a police pursuit passes by you, do not follow it. Instead, pull over to the side of the road and wait for the pursuit to pass. If you are at home, stay inside and lock your doors and windows. If you are in a public place, follow the instructions of the authorities and evacuate if necessary. Do not attempt to intervene in the pursuit in any way.
---
---
Hire an Accident Attorney in East Hollywood
If you or a loved one has been injured in an auto collision, Accident Lawyer strongly encourages you to call our East Hollywood car accident lawyers. Your experienced Car Accident Lawyer Near East Hollywood will provide you with the best legal representation and guidance that you need. Our offices are conveniently located throughout California and we conduct regular travels in the region to meet with clients. Contact Car Accident Lawyer today.
Recent East Hollywood Accident News
3 Injured When Car Smashes Into Hotel Covelli in East Hollywood
Hit and Run Driver Sought in East Hollywood Fatal Crash
East Hollywood Hit and Run Crash Near Melrose Ave. Kills Man
East Hollywood Hit and Run Crash Seriously Injures Tow Truck Driver
Accident attorney, Donald Stevenson, is a legal expert and has been practicing law for over 25 years. Donald has been a ruthless fighter, going after insurance companies to get his clients the highest settlement available. His desire to help more people in their time of need has caused him to expand across three states (California, Nevada, and Colorado) to bring his talent to as many people as possible.