Murrieta, CA – Motorcyclist Killed on 215 Freeway
Posted on April 30, 2019 | Written By: iadminlaw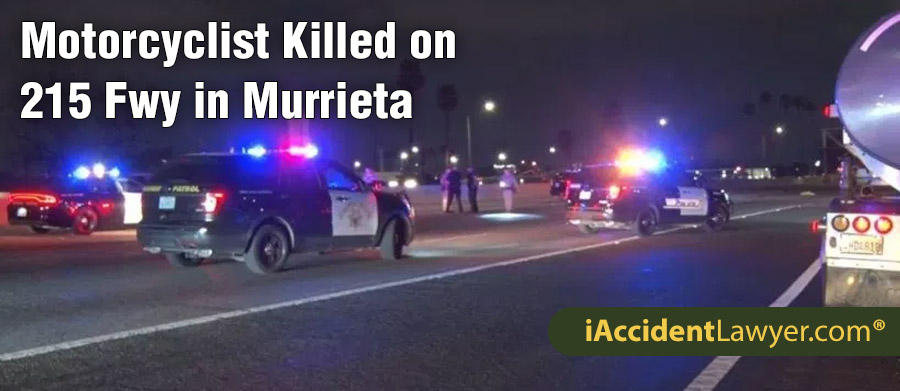 Motorcyclist Killed on 215 Freeway in Murrieta
MURRIETA, CA (April 30, 2019) – A motorcyclist was killed early in the morning on Saturday after being ejected from his bike in Murrieta on the 215 Freeway. The April 27 incident occurred in the freeway's northbound lanes, near Scott Road and to the south of it.
The time was roughly 4:27 a.m.
Reports say the motorcyclist had been riding a Honda CBR. His bike went out of his control for reasons that are not known, and he fell from it. Moments later, the motorcyclist was struck by a vehicle—described as a Volkswagen Passat—that had been traveling 65 miles per hour. According to the California Highway Patrol, the Passat's driver did not see the motorcyclist.
The motorcyclist had been wearing a helmet at the time of the incident. He was killed in the crash. He was identified as 34 years old and a resident of Escondido. His name has not been reported.
The identity of the driver of the Passat has not been reported, including the person's name, age, gender, and city of residence. It is not known if anyone else had been traveling in the vehicle at the time of the incident.
According to reports, light fog was occurring in the area at the time of the crash. It is not known if that was a factor. Investigators are examining the details to understand why the crash happened.
---
---
Hire a Car Accident Attorney in Murrieta
If you or a loved one has been injured in an auto collision, iAccident Lawyer strongly encourages you to call our Murrieta car accident lawyers. Your experienced Car Accident Lawyer Murrieta will provide you with the best legal representation and guidance that you need. Our offices are conveniently located throughout California and we conduct regular travels in the region to meet with clients. Contact Car Accident Lawyer today.