Lake Elsinore Man Killed In Horrific Jet Ski Collision
Posted on September 14, 2023 | Written By: Donald Stevenson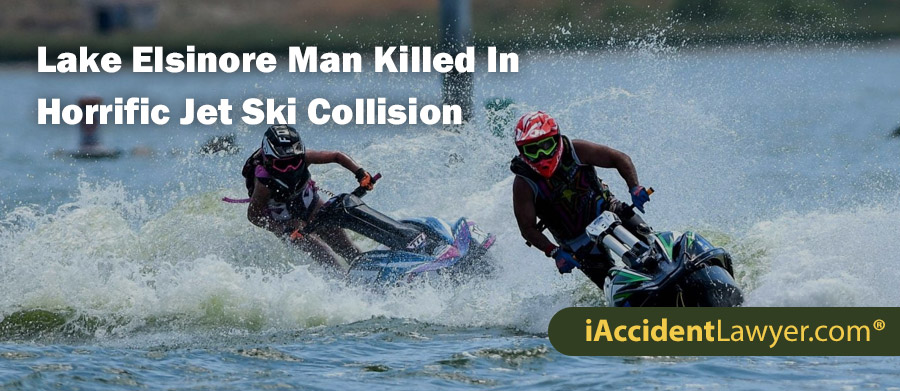 Jet Ski Accident in Lake Elsinore Leaves 1 Dead
Lake Elsinore, CA (September 14, 2023) – A heart-wrenching incident unfolded on the evening of September 10 when a man lost his life in a jet ski accident on Riverside Drive in Lake Elsinore.
Emergency Responders Arrived at The Boat Launch Hoping To Be Able To Save The Man's Life
At approximately 6:56 p.m., Riverside County Sheriff's deputies received an urgent call reporting a medical emergency at a boat ramp located in the 32000 block of Riverside Drive, adjacent to the picturesque lake.
Upon their swift arrival, deputies ascertained that the victim had been riding a jet ski on the lake alongside a family friend when a tragic collision occurred. The concerned family friend managed to transport the injured victim to the boat launch area in an attempt to seek immediate medical assistance. However, at this critical juncture, the victim experienced a severe medical emergency.
Victim Was Transported To Inland Valley Medical Center But It Was Too Late
Quick to respond, Cal Fire/Riverside County Fire Department personnel-initiated life-saving measures at the scene, working diligently to stabilize the injured man's condition.
Despite their valiant efforts, the victim's injuries proved to be fatal, and he was subsequently transported to Inland Valley Medical Center in Wildomar, where he was sadly pronounced deceased.
As authorities continue to grapple with the circumstances surrounding this heartrending incident, the Riverside County Sheriff's Department has launched a comprehensive investigation. They are urging anyone possessing additional information related to the accident to come forward and contact Deputy Downs at 951-245–3300.
---
Location Where A Man Lost His Live In A Horrific Jet Ski Accident In Lake Elsinore
---
Hire an Accident Attorney Near Lake Elsinore, CA
If you or a loved one has been injured in an jet ski accident, the Accident Lawyers strongly encourage you to call our Lake Elsinore car accident lawyers. Your experienced Boat Accident Lawyer will provide you with the best legal representation and guidance that you need. Our offices are conveniently located throughout California and we conduct regular travels in the region to meet with clients. Contact Boat Accident Lawyer today.
Recent Accident News Near Lake Elsinore, CA
Murrieta Street Racing Crash Destroys Lamborghini Huracán
Eliazar Garcia Struck and Killed by Vehicle on Menifee Road
Courteney and Amaya Taylor Killed By Drunk Driver In Fallbrook
Accident attorney, Donald Stevenson, is a legal expert and has been practicing law for over 25 years. Donald has been a ruthless fighter, going after insurance companies to get his clients the highest settlement available. His desire to help more people in their time of need has caused him to expand across three states (California, Nevada, and Colorado) to bring his talent to as many people as possible.