Fontana 4-Car Crash on Foothill Blvd Leaves 3 Hurt
Posted on June 5, 2023 | Written By: Corey Higgins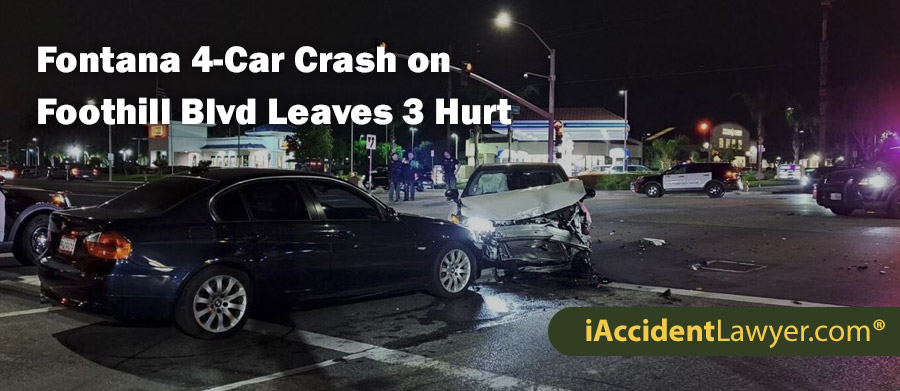 3 People Hurt In 4 Car Crash In Fontana, CA
Fontana, CA (June 2, 2023) – A four-car accident at the intersection of Foothill Boulevard and Citrus Avenue resulted in injuries to three individuals. The incident, which occurred on the evening of May 26 at approximately 9:13 p.m., involved a collision between multiple vehicles, one of which required emergency CPR measures for its driver. Prompt response by emergency crews led to the critical-condition victim being transported to Arrowhead Regional Medical Center.
Paramedics Transported 2 Passengers As a Precaution
Furthermore, paramedics attended to two passengers from another vehicle who reported experiencing pain. As a precautionary measure, they were transported to a nearby hospital for further evaluation and treatment.
The Fontana Police Department has initiated an investigation into the circumstances surrounding the crash. The Fontana Police Major Accident Investigation team is actively seeking information from any witnesses or individuals with relevant details regarding the incident. Those with information are urged to contact the Fontana Police Department.
Defensive Driving Can Help Prevent Accidents Like This
This unfortunate accident serves as a reminder of the importance of careful and responsible driving to prevent car collisions. Drivers are advised to maintain their focus on the road ahead and adjust their speed according to the prevailing traffic and road conditions. By adhering to defensive driving techniques such as maintaining an adequate distance between vehicles, individuals can significantly reduce the risks associated with accidents.
It is crucial for all motorists to recognize that accidents can happen to anyone, and it is everyone's responsibility to prioritize safety on the roads. By practicing defensive driving and following traffic regulations, we can collectively work towards minimizing the occurrence of such incidents and ensure the well-being of all road users.
---
Location of Multi Car Accident In Fontana, CA
---
What Are Some Benefits of Good Defensive Driving?
Engaging in good defensive driving practices offers several benefits that contribute to overall road safety and personal well-being. Here are some advantages of practicing defensive driving:
Accident prevention: Defensive driving techniques prioritize proactive measures to avoid accidents. By staying alert, anticipating potential hazards, and maintaining a safe following distance, defensive drivers can significantly reduce the risk of collisions and protect themselves and others on the road.
Increased personal safety: Defensive driving emphasizes safety as a top priority. By consistently practicing defensive driving techniques, such as obeying traffic laws, avoiding distractions, and staying focused on the road, drivers can enhance their personal safety and minimize the likelihood of injuries or fatalities.
Better risk assessment: Defensive driving in Fontana involves continuously scanning the road ahead, checking mirrors, and being aware of the actions of other drivers. This allows drivers to assess potential risks and make informed decisions to prevent dangerous situations before they occur.
Improved hazard recognition: Defensive drivers are adept at recognizing potential hazards, including aggressive drivers, impaired drivers, pedestrians, adverse weather conditions, or road obstacles. By identifying these hazards early, defensive drivers can take appropriate actions, such as adjusting speed, changing lanes, or maintaining extra caution, to avoid potential accidents.
Reduced stress and anxiety: Good defensive driving practices can contribute to a calmer and less stressful driving experience. By being proactive and in control of the situation, defensive drivers feel more confident on the road, which can help reduce stress and anxiety associated with driving.
Lower insurance premiums: Insurance companies often offer discounts or lower premiums to drivers who have completed defensive driving courses or have a proven track record of safe driving. By consistently practicing defensive driving, you may qualify for these cost-saving benefits.
Preservation of vehicle condition: Defensive driving techniques, such as maintaining a safe following distance and avoiding sudden braking or acceleration, can help reduce wear and tear on your vehicle. By driving defensively, you can contribute to the longevity and maintenance of your vehicle.
Positive impact on the community: Good defensive driving practices contribute to overall road safety and create a positive impact on the community. By reducing the likelihood of accidents, defensive drivers help create a safer environment for all road users.
Practicing defensive driving is not only beneficial for individual drivers but also for the well-being of everyone sharing the road. It promotes a culture of safety, attentiveness, and responsible behavior, making the roads safer for all.
Hire an Accident Attorney Near Fontana, CA
If you or a loved one has been injured in an auto collision, Accident Lawyer strongly encourages you to call our Fontana car accident lawyers. Your experienced Car Accident Lawyer will provide you with the best legal representation and guidance that you need. Our offices are conveniently located throughout California and we conduct regular travels in the region to meet with clients. Contact Car Accident Lawyer today.
Recent Accident News Near Fontana, CA
Jose Martinez Dies after Being Struck by Vehicle in San Bernardino
San Bernardino Stolen Vehicle Runs Red Light and Injures 9 In Multi-Car Crash
Driver Fleeing Police Pursuit in Rialto Crashes into Four Vehicles and is Killed
Corey Higgins has been working at Accident Attorneys' Group for 2 years. Accident Attorneys' Group is part of the Law Firms & Legal Services industry, and located in California, United States.
Accidental Attorney's Group provides personal injury and accident related legal services for the entire state of California. The Group serves injury victims of numerous types of accidents such as car, truck, personal injuries, dog bites, slip and fall and more.
Law School: Whittier Law School
Status: In Good Standing
Licensed: 14 years