Escondido, CA – Sinkhole on 7th Avenue Engulfs Woman's Car
Posted on September 25, 2019 | Written By: iadminlaw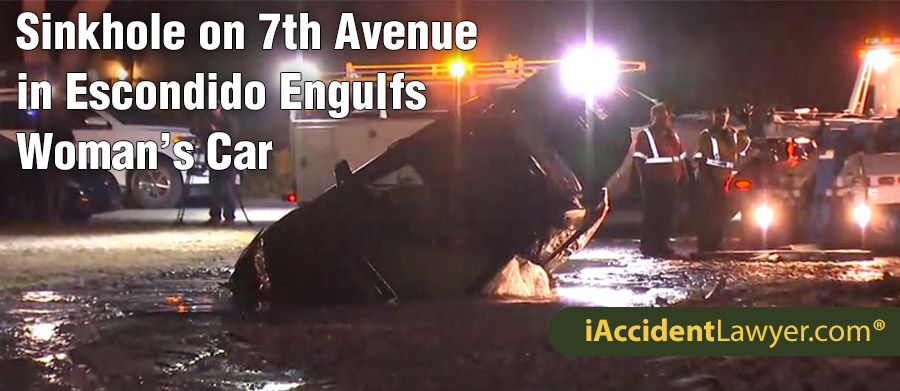 Sinkhole on 7th Avenue in Escondido Engulfs Woman's Car
ESCONDIDO, CA (September 25, 2019) – Early in the morning on Tuesday, a sinkhole that developed on 7th Avenue in Escondido engulfed a woman's car, nearly burying it. The September 24 incident occurred in the 500 block close to Pine Street, and Centre City Parkway, which is also nearby.
The time was roughly 3:30 a.m.
Reports say a 12-inch water main broke under the street, and a car began sinking in the hole that developed. The woman's car descended deeper into the hole, and overturned.
Responding crews worked to pull the car from the sinkhole, which had developed a depth of 4 feet. The identity of the car's owner, including the woman's name, age, and city of residence, has not been reported.
Reports also say that as many as two homes had water come inside from the water main break. The locations of those homes, and the identities of the owners, have not been reported.
Investigators are working to gather information to understand what led to the break of the water main.
---
---
Hire a Car Accident Attorney in Escondido
If you or a loved one has been injured in an auto collision, iAccident Lawyer strongly encourages you to call our Escondido car accident lawyers. Your experienced Car Accident Lawyer Escondido will provide you with the best legal representation and guidance that you need. Our offices are conveniently located throughout California and we conduct regular travels in the region to meet with clients. Contact Car Accident Lawyer today.