Driver Fleeing Police Pursuit Crashes into RV in Los Angeles
Posted on July 22, 2022 | Written By: iadminlaw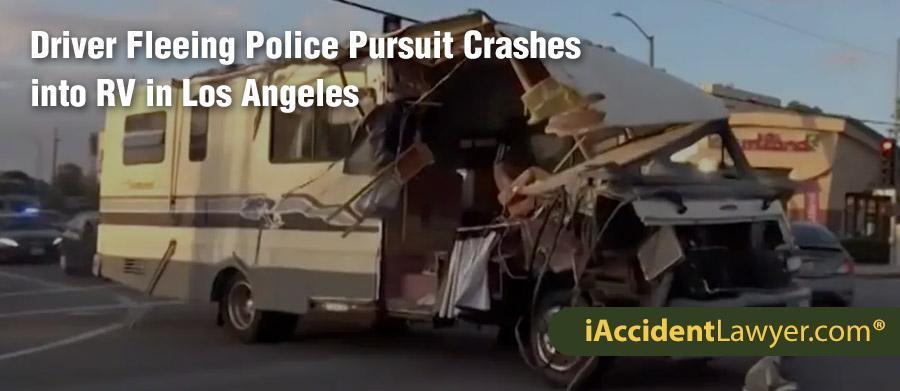 Los Angeles Driver Fleeing Police Pursuit Crashes into RV
LOS ANGELES, CA (July 22, 2022) – On Wednesday night in Los Angeles, a driver who was fleeing police pursuit in a suspected stolen SUV crashed into an RV that was parked. The July 20 crash occurred in the area of Hancock Park, and brought the vehicle pursuit to an end.
The time of the crash was a little after 9:30 p.m., Los Angeles Police said.
According to Police, officers began pursuing the SUV in the vicinity of Hollywood Boulevard and Bronson Avenue, and continued onto the 101 Freeway before going back on to surface streets.
The driver of the SUV was reported to have been driving at high speeds and erratically during the pursuit by police.
According the authorities, the driver attempted a turn in an intersection, and the SUV went out of the driver's control.
The SUV smashed into an RV that was parked, and the SUV stopped.
Authorities said the suspect driver fled the crash site on foot.
Investigators are searching for the suspect driver, who has not been described.
---
---
Hire an Accident Attorney in Los Angeles
If you or a loved one has been injured in an auto collision, Accident Lawyer strongly encourages you to call our Los Angeles car accident lawyers. Your experienced Car Accident Lawyer Los Angeles will provide you with the best legal representation and guidance that you need. Our offices are conveniently located throughout California and we conduct regular travels in the region to meet with clients. Contact Car Accident Lawyer today.