Downey, CA – Vehicle Crashes into Strip Mall; Two Critically Injured
Posted on August 26, 2019 | Written By: iadminlaw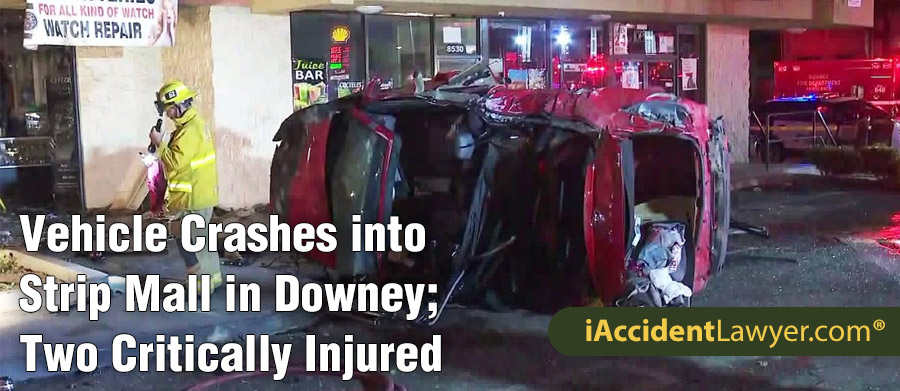 Vehicle Crashes into Strip Mall in Downey; Two Critically Injured
DOWNEY, CA (August 26, 2019) – Early in the morning on Monday, a vehicle crashed into a building, critically injuring two people in Downey. The August 26 incident occurred on Paramount Boulevard where a watch store is located in a strip mall.
The time was roughly 1:45 a.m., according to Mike Whitney. Whitney is a battalion chief with the Downey Fire Department.
Reports say a vehicle—which has not been described—had been traveling southbound at a fast speed on Paramount Boulevard. For reasons that are not known, the person driving the vehicle lost control of it, and the vehicle hit a tree close to Telegraph Road.
The impact sent the vehicle in the air, and then it smashed into the building. After coming to a stop and sitting on its side, the vehicle erupted in flames.
Responders extinguished the flames and extricated two occupants of the vehicle, both identified as men. Responders transported the two victims to a hospital in the area.
The types of injuries the two victims suffered have not been described, though their condition was described as critical. The men were identified only as in their twenties. Their names and cities of resident have not been reported.
Investigators are working on understanding what factors contributed to the incident.
---
---
Hire a Car Accident Attorney in Downey
If you or a loved one has been injured in an auto collision, iAccident Lawyer strongly encourages you to call our Downey car accident lawyers. Your experienced Car Accident Lawyer Downey will provide you with the best legal representation and guidance that you need. Our offices are conveniently located throughout California and we conduct regular travels in the region to meet with clients. Contact Car Accident Lawyer today.