13 Year Old Los Angeles Child Killed in Hit-and-run Crash
Posted on January 12, 2023
LOS ANGELES, CA (January 10, 2023) – Early in the morning on Monday in South Los Angeles, a child was killed, and two other children and a woman were severely injured in a hit-and-run crash. The January 9 crash occurred in the Broadway-Manchester neighborhood, at 100 E. 111th Place.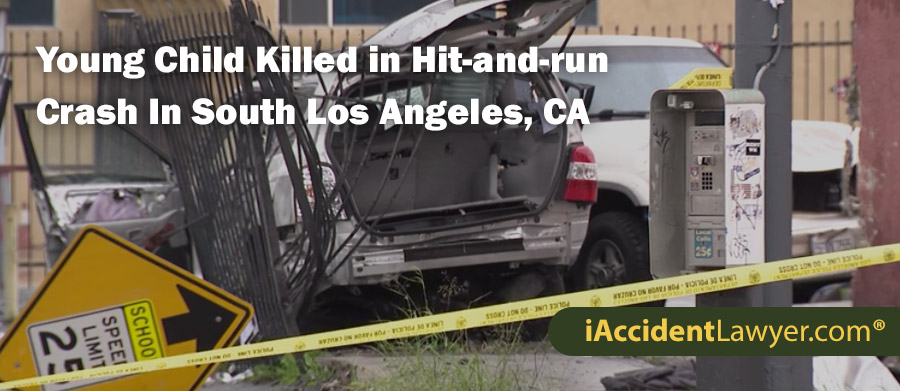 Child Killed, Two Other Children and Woman Injured in Hit-and-run Crash In South Los Angeles, CA
The time was roughly 8:00 a.m., the Los Angeles Fire Department said.
Three vehicles were involved in the crash, reports say, with one of the vehicles traveling at a fast speed prior to the collision.
The vehicles were described as a sedan, another car, and an SUV.
It is not clear from reports how the crash occurred, nor the line of travel of each vehicle prior to the collision.
When responders arrived to help, they found a sedan was burning, but the person who had been driving the sedan appeared to have fled the crash site.
Responders worked to help four people from an SUV that struck another car and also struck a building.
The patients in the SUV included a woman, and a 16-year-old child who was seated in the front passenger seat. They suffered injuries that were described as serious.
Their injuries have not been described, and their identities have not been reported.
Responders also rescued a 13-year-old child and an 18-month-old baby, who were both described as in grave condition.
According to Erik Scott, who is a captain with the Los Angeles Fire Department, the two young patients suffered traumatic cardiac arrest.
Some time later, Los Angeles Police said that one of the children died from the injuries. Reports do not offer any other information about the child's identity.
The other car involved in the crash has not been described, but reports say that the other car and the SUV both had damage that was described as major.
The occupants of the other car have not been identified, and reports do not say if anyone in that car was injured.
Investigators are continuing their efforts to gather information and details regarding the crash, and to locate the suspected hit-and-run driver.
---
---
Driving During Difficult Weather Conditions
Authorities have been urging drivers to exercise caution when driving under the current conditions found on the roadways during the heavy rainfall the area has been experiencing.
Rain leads to slick roads, which increases stopping distance. Authorities have indicated that extra attention and care should be taken when driving during and after rainfall, as the road surface can be slippery.
As always, being prepared, and allowing extra time when driving to destinations, will help during difficult driving weather.
Drivers can check weather reports before heading out to the roadways. Areas that have burn scars from wildfires can be at risk of mudslides during rainfall.
Trees can also topple in high winds, and knowing what the weather conditions are before heading out is important.
Drivers should keep emergency supplies in their vehicles in case they are stranded. Some items to keep include a flashlight and extra batteries, drinking water, emergency food and snacks, first aid kid, emergency blanket, phone charger, weather radio, to name a few.
Vehicles should be regularly checked and maintained, such as making sure the brakes, and the spare tire, as well as all the tires are in good shape.
Make sure to check the wiper blades to see if they need replacing.
As always, using caution when driving can help keep people safer.
Hire an Accident Attorney in Los Angeles
If you or a loved one has been injured in an auto collision, Accident Lawyer strongly encourages you to call our Los Angeles car accident lawyers. Your experienced Car Accident Lawyer Los Angeles will provide you with the best legal representation and guidance that you need. Our offices are conveniently located throughout California and we conduct regular travels in the region to meet with clients. Contact Car Accident Lawyer today.
South Los Angeles Related Accident News From iAccident Lawyer
Los Angeles Motorcycle Accident Leaves a Man Dead and a Woman in Critical Condition
15 Year Old South Los Angeles Boy Killed When Vehicle Crashes Into Liquor Store
Two Drivers Suspected of Running over and Killing Teen Intentionally in South Los Angeles