Bonita, CA – Julian Garcia Escapes Injury After Striking Tree Fallen Across Sweetwater Road
Posted on November 15, 2019 | Written By: iadminlaw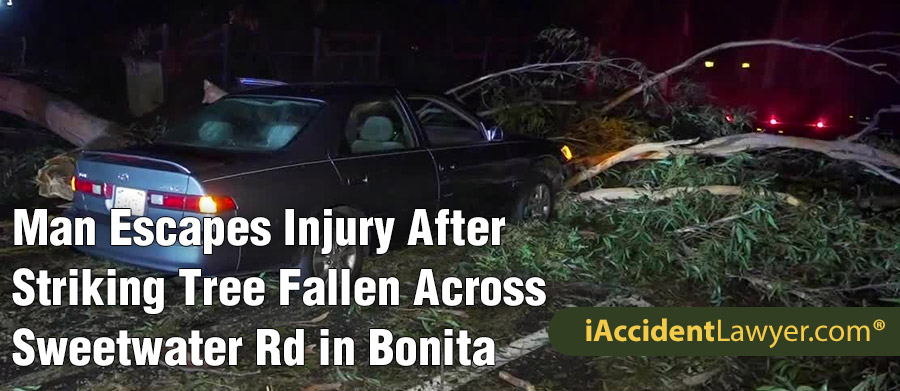 Man Escapes Injury After Striking Tree Fallen Across Sweetwater Road in Bonita
BONITA, CA (November 15, 2019) – Early in the morning on Thursday, Julian Garcia was driving on Sweetwater Road in Bonita when the struck a tree in the dark. The November 14 incident occurred close to Valley Road.
The time was roughly 3:30 a.m., the California Highway Patrol said.
Reports say Garcia had been home-bound when he smashed into the three. According to reports, a eucalyptus tree, had fallen across the road, blocking both lanes.
The road was dark at that hour, and Garcia said he did not see the tree in enough time. He braked hard, but still struck the eucalyptus, which he later described as very large.
Responders from the fire department arrived to saw and remove the tree from the street. The tree had fallen over, exposing its roots. Reports do not say what property the tree had been growing on, and who the owner of the property is.
According to reports, Garcia was uninjured in the incident. The vehicle he was driving, which has not been described, sustained damage to its front.
Investigators are working to gather information and details regarding the incident.
---
---
Hire a Car Accident Attorney in Bonita
If you or a loved one has been injured in an auto collision, iAccident Lawyer strongly encourages you to call our Bonita car accident lawyers. Your experienced Car Accident Lawyer Bonita will provide you with the best legal representation and guidance that you need. Our offices are conveniently located throughout California and we conduct regular travels in the region to meet with clients. Contact Car Accident Lawyer today.