Anaheim, CA – Car Crashes into Truck at Lane Closure on 91 Freeway, Killing Driver
Posted on August 29, 2018 | Written By: iadminlaw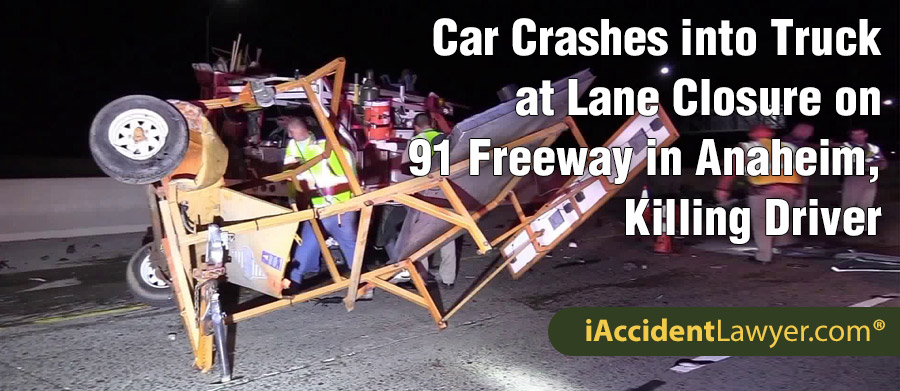 Car Crashes into Truck at Lane Closure on 91 Freeway in Anaheim, Killing Driver
AHAHEIM, CA (August 29, 2018) – A driver died after crashing into a truck on the 91 Freeway in Anaheim. The accident occurred in the lanes of the freeway that head east, close to the off-ramp for Tustin Avenue.
The time was roughly 3:30 a.m.
According to reports, a Lexus ES300 was going at a speed that is not known when it approached a closure. At the time the Lexus approached the closure, a truck belonging to a private contractor was in the act of reopening the closed lane.
A Fort F350 truck was on the road where the contractor was picking up signage. The Lexus' driver smashed into the truck and the signboard. The contractor saw the Lexus approaching him, and he managed to get away from the oncoming vehicle in time.
The Lexus' driver died at the scene of the accident. Police identified him as a 35-year-old resident of the Inland Empire.
Investigators do not yet know what caused the crash. They are examining the details and information.
---
---
Hire a Car Accident Attorney in Anaheim
If you or a loved one has been injured in an auto collision, iAccident Lawyer strongly encourages you to call our Anaheim car accident lawyers. Your experienced Car Accident Lawyer Anaheim will provide you with the best legal representation and guidance that you need. Our offices are conveniently located throughout California and we conduct regular travels in the region to meet with clients. Contact Car Accident Lawyer today.