Rideshare Accident Lawyer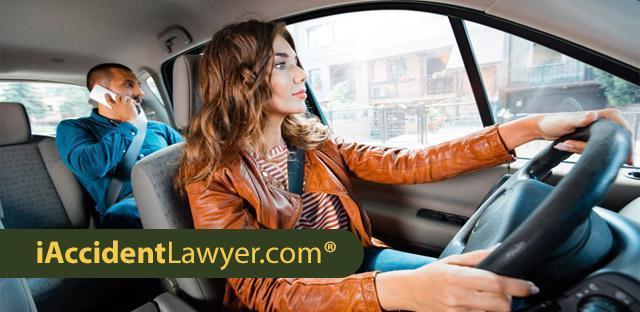 Following a rideshare accident, it can be challenging to know how to get your insurance claim processed, and often, the insurers will be less than helpful. That's why it can be beneficial to hire a rideshare accident lawyer who will seek the maximum monetary compensation on your behalf. Learn more from I Accident Lawyer.
Rideshare companies have made all of our lives more convenient; if ever you need a safe, affordable, and easy mode of transportation, companies like Uber and Lyft are there for you. But of course, even rideshare companies that put a high premium on safety are never entirely risk-free. Any time you get into an Uber or a Lyft, there is a small risk that you could wind up in an accident, and when that happens, it can be disorienting, to say the least. You may need to hire a rideshare accident lawyer to help you get the various insurance issues sorted out. I Accident Lawyer is here when you need us; a seasoned personal injury firm, we are uniquely experienced at representing clients injured in rideshare accidents.
Why Hire a Rideshare Car Accident Lawyer?
The reason why you might wish to hire an Uber accident lawyer or a Lyft accident lawyer is simple: Following a rideshare accident, there is often a lot of confusion about how to process the insurance claim.
Should you file with the rideshare driver, personal insurance company? With Uber or Lyft? And what about the other driver(s) involved in the accident? If they are at fault, you may need to file with their insurer. And even if you file correctly, it can be an uphill battle getting the insurance company to pay out the maximum monetary compensation.
On top of all that, your rideshare accident may leave you with serious injuries from which you need to recover. The last thing you want is for your recovery to be compromised by back-and-forth with various insurance companies.
A skilled rideshare car accident lawyer can handle all of the specifics on your behalf, fighting for you to receive your just compensation while leaving you to focus on making a full physical recovery.
Why Choose Our Rideshare Lawyers?
Not all rideshare lawyers are created equal, and the team at I Accident Lawyer is renowned for our expertise in this field. We're the most trusted rideshare accident law firm in California, and here are just some of the reasons why:
We are committed to only representing individuals who are injured in accidents. We never represent insurance companies, and we never represent the rideshare companies themselves.
We want to make the process as convenient as can be, which means we're happy to come meet with you and chat about the details of your case wherever is best for you at home, at work, or in the hospital.
We are passionate about always fighting for our clients to receive the maximum monetary compensation. This means reimbursement for out-of-pocket medical costs, lost wages, and more.
We take pride in being easy to reach. You can contact I Accident Lawyer around the clock, and when you call us, you always have the option of speaking with an actual rideshare accident attorney.
We only get paid if you get paid! There's no up-front pricing, and we'll only bill you when we win the case on your behalf. There is no risk to hiring us to represent you in your rideshare accident case.
To learn more about the things that set our rideshare lawyers apart, we welcome you to contact I Accident Lawyer at your earliest convenience.
Who Needs a Rideshare Accident Attorney?
There are a few specific categories of people for whom a rideshare accident attorney can be especially helpful. Call us if you fall under any of these headings:
You are a driver or passenger who was involved in a rideshare accident, and the rideshare driver was found to be at fault.
You are an Uber or Lyft driver and were involved in an accident where another driver was at fault.
You are a pedestrian or cyclist and were injured in an accident involving an on-duty rideshare driver.
If you fall into any of these categories, we urge you to seek the legal representation you need to get full compensation today.
Hire a Rideshare Accident Lawyer
I Accident Lawyer is proud to serve the needs of those who have been injured in rideshare accidents. We're standing by to hear the details of your case and to advise on how you should proceed. Don't hesitate to contact a rideshare accident lawyer from our team at any time.
Los Angeles Uber and Lyft Accident Lawyer
San Diego Uber and Lyft Accident Lawyer
San Francisco Uber and Lyft Accident Lawyer
Fresno Uber and Lyft Accident Lawyer
Long Beach Uber and Lyft Accident Lawyer
San Jose Uber and Lyft Accident Lawyer
Sacramento Uber and Lyft Accident Lawyer
Oakland Uber and Lyft Accident Lawyer
Anaheim Uber and Lyft Accident Lawyer