Whittier, CA – Christian Inman Dies in Crash on Carmenita Road; Others Injured
Posted on November 13, 2020 | Written By: iadminlaw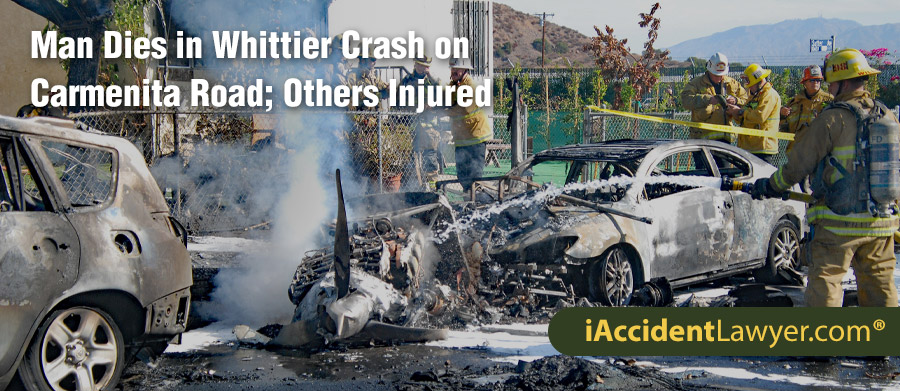 Man Dies in Whittier Crash on Carmenita Road; Others Injured
WHITTIER, CA (November 13, 2020) – Christian Inman died in a crash in Whittier on Wednesday night. He had been a passenger in a vehicle in the November 11 incident, which occurred on Carmenita Road near the Imperial Highway intersection.
The time was roughly 10:30 p.m., California Highway Patrol said.
A vehicle–described as an Audi SS sedan–had been traveling northbound on Carmenita Road. The California Highway Patrol is reported as saying the Audi went into the intersection when the light was red.
The Audi was trying to turn to the left and it collided with a vehicle, described as a Toyota Corolla. The impact of the crash sent the Audi into a pole for a traffic signal, with the passenger side striking the pole.
Christian Inman had been the passenger in the front seat of the Audi. He died at the crash site.
Inman was a resident of Winchester, 18 years old.
Six other occupants of the Audi were injured in the crash.
The person driving the vehicle–identified as a resident of Temecula, 21 years old–suffered major injuries. His name has not been reported.
Three passengers–identified as a girl who is a resident of Wildomar, 14 years old; a boy who is a resident of Murrieta, 16 years old; and a woman who is a resident of Murrieta, 20 years old, all suffered injuries that were described as major.
Two other people who were passengers in the Audi suffered injuries that were described as moderate. They have not been identified in reports.
It is is not known from reports if anyone in the Toyota was injured. The driver of the Toyota has not been identified. Reports do not say if the Toyota was carrying passengers.
Investigators are continuing their work on the crash details.
---
---
Hire a Car Accident Attorney in Whittier
If you or a loved one has been injured in an auto collision, iAccident Lawyer strongly encourages you to call our Whittier car accident lawyers. Your experienced Car Accident Lawyer Whittier will provide you with the best legal representation and guidance that you need. Our offices are conveniently located throughout California and we conduct regular travels in the region to meet with clients. Contact Car Accident Lawyer today.