Westlake Hit-and-run Crash at Beverly Blvd. Seriously Injures Pedestrian
Posted on September 30, 2022 | Written By: Robert Koenig
Westlake Hit-and-run Crash at Beverly Blvd. Seriously Injures Pedestrian in Los Angeles, CA
LOS ANGELES, CA (September 30, 2022) – On Saturday in Los Angeles, a hit-and-run driver seriously injured a pedestrian in the Westlake area. The September 24 crash occurred where Beverly Boulevard and North Dillon Street intersect.
The time was roughly 8:25 p.m., Los Angeles Police said.
A pedestrian was walking across the roadway, in a crosswalk that is not marked, authorities said.
A car that was traveling on Beverly Boulevard and heading east struck the person.
The force of the crash threw the pedestrian against a vehicle that was parked, and she landed on the ground.
The person who was driving the vehicle did not help the victim or remain at the crash site.
Responders transported the victim to a hospital in the area. She suffered injuries that were described as severe.
She was identified only as 44 years old. Her name and city of residence have not been reported.
Investigators are searching for the car involved in the crash, and the suspect hit-and-run driver, who has not been described.
If anyone has information about the crash, the person can contact Juan Campos, who is a detective.
The number is 213-833-3713.
Anonymous calls can be made to Crime Stoppers. That number is 800-222-8477.
---
---
Hire an Accident Attorney in Los Angeles
If you or a loved one has been injured in an auto collision, Accident Lawyer strongly encourages you to call our Los Angeles car accident lawyers. Your experienced Car Accident Lawyer Los Angeles will provide you with the best legal representation and guidance that you need. Our offices are conveniently located throughout California and we conduct regular travels in the region to meet with clients. Contact Car Accident Lawyer today.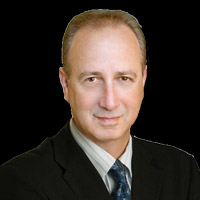 Legal Expert, Robert Koenig, has been practicing law for over 30 years. His desire to help more people in their time of need has caused him to expand across three states (California, Nevada, and Colorado) to bring his talent to as many people as possible. During which time he has collected OVER $150,000,000 in personal injury and car accident claims. Robert has been a ruthless fighter, going after insurance companies to get his clients the highest settlement available.
Education
Pepperdine University School of Law
JD – Juris Doctor
1984
University of California – Los Angeles
BA – Bachelor of Arts
1980