South Los Angeles, CA – Ana Tica Killed by Hit-and-run Driver
Posted on December 11, 2018 | Written By: iadminlaw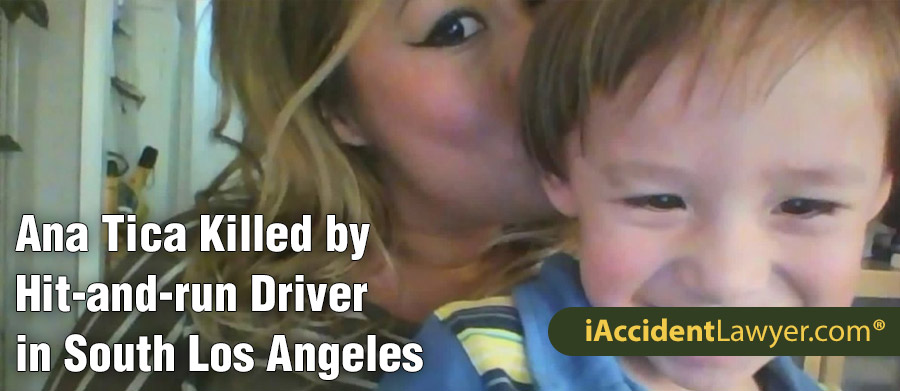 Ana Tica Killed by Hit-and-run Driver in South Los Angeles
SOUTH LOS ANGELES, CA (December 11, 2018) – Ana Tica was hit by a hit-and-run driver early in the morning on Monday in South Los Angeles. She died from her injuries. The December 10 accident occurred in South-Central. The time was roughly 3:40 a.m.
According to reports, Tica was on foot heading west in the number 1 lane of Vernon Avenue, near Towne Avenue. A vehicle—described as a minivan, white in color—had been traveling in the same direction. Investigators said the minivan hit Tica, stopped briefly, and drove away, fleeing south on San Pedro Street.
Officials described the minivan as a model from the early 1990s, and looked like a Dodge Caravan. The minivan's front on the left side had damage. The driver is not known at this time, and no description is available.
Respondents arrived to help Tica, but she was pronounced deceased at the accident scene. Tica, a mother of two, was 33 years old. According to her family, Tica had been living on South Los Angeles' streets.
Police are looking for the driver of the vehicle that hit Tica and left the accident scene, and also another driver in a second vehicle who they think saw the accident. Footage from cameras in the area show a vehicle, white in color, that may be a 2015 Mitsubishi Lancer. The vehicle has door handles that are black. According to officials, this second vehicle was in the area when Tica was struck. Officials believe that second vehicle came back to the accident scene, and then after a few minutes, it drove away.
Police want to interview the people who had been traveling in that car, to have them help in identification of the hit-and-run driver, and the vehicle that struck Tica. Police ask that if anyone has information about the accident, he or she should call the Los Angeles Police Department. The number is 877-527-3247. People can also make tips anonymously at L.A. Regional Crime Stoppers. That number is 800-222-8477.
---
---
Hire a Car Accident Attorney in South Los Angeles
If you or a loved one has been injured in an auto collision, iAccident Lawyer strongly encourages you to call our South Los Angeles car accident lawyers. Your experienced Car Accident Lawyer South Los Angeles will provide you with the best legal representation and guidance that you need. Our offices are conveniently located throughout California and we conduct regular travels in the region to meet with clients. Contact Car Accident Lawyer today.