Somis, CA – Big Rig Towing Mobile Home Crashes on Highway 118, Hitting Second Big Rig
Posted on March 13, 2019 | Written By: iadminlaw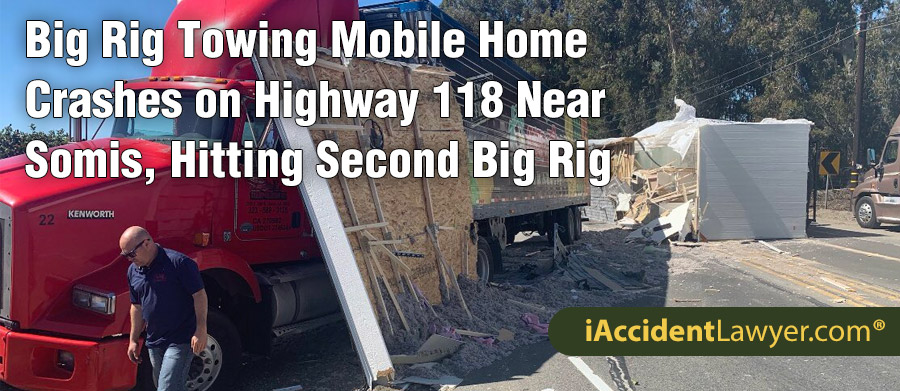 Big Rig Towing Mobile Home Crashes on Highway 118 Near Somis, Hitting Second Big Rig
SOMIS, CA (March 13, 2019) – A big rig that had been towing a mobile home on Tuesday afternoon crashed on Highway 118 near Somis. The March 12 accident occurred west of town, close to Mesa School Road, and involved a second big rig.
The time was roughly 12:45 p.m.
Reports say a big rig had been pulling a mobile home that was 50 feet long at the time of the accident. According to the California Highway Patrol, when the mobile home rolled over, it fell onto a second big rig truck.
Reports say that no one was injured in the incident. The identities of the drivers of each of the trucks has not been reported, including their names, ages, gender, and cities of residence. It is not known from reports which companies owned the trucks.
Why the mobile home overturned and the big rig that was pulling crashed is not known from reports. Investigators are looking into the information and details to understand why the accident happened.
---
---
Hire a Car Accident Attorney in Somis
If you or a loved one has been injured in an auto collision, iAccident Lawyer strongly encourages you to call our Somis car accident lawyers. Your experienced Car Accident Lawyer Somis will provide you with the best legal representation and guidance that you need. Our offices are conveniently located throughout California and we conduct regular travels in the region to meet with clients. Contact Car Accident Lawyer today.