Santa Monica, CA – Hit-and-run Driver Strikes and Kills Man on Scooter
Posted on March 19, 2019 | Written By: iadminlaw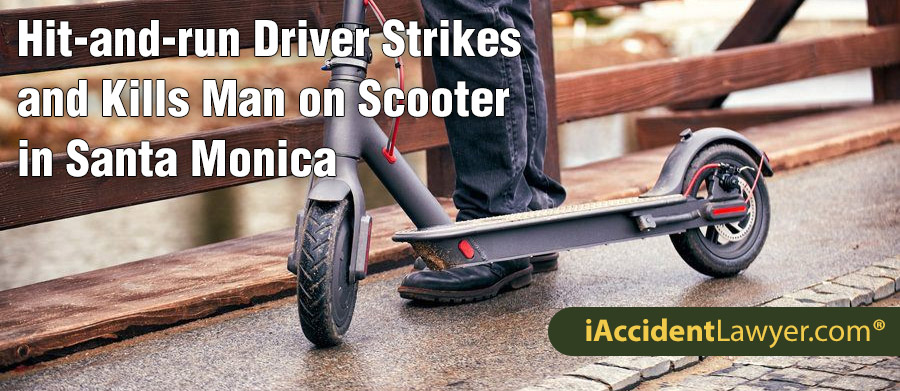 Hit-and-run Driver Strikes and Kills Man on Scooter in Santa Monica
SANTA MONICA, CA (March 19, 2019) – A man who had been riding on an electric scooter was hit and killed by a hit-and-run driver in the evening on Monday in Santa Monica. The March 18 accident occurred on Third Street in the 2700 block.
The time was roughly 8:30 p.m., the Santa Monica Police said.
Reports say the man had been on his scooter in an area that is residential, near the Third Street Promenade and to the south of it. Authorities said the man had been heading south on Third Street, and he fell off his scooter. A vehicle—described as a sedan, tan or off-white in color, and possibly a Toyota Camry—which had also been heading south hit the man. According to authorities, the driver—identified as male—stopped his vehicle and exited, but then he left the accident site before respondents came.
Respondents arrived to help the victim, who had serious injuries to his head and body. Respondents transported the injured man to the hospital, where he died. He was identified as 41 years old. His name and city of residence have not been reported.
The suspected hit-and-run driver has been described as white, roughly 6 feet, 2 inches in height, and he has his head shaved or has short hair. He is possibly 30 years to 40 years old. According to police, the driver may have a medium build, and he had on prescription glasses.
Investigators are examining the details and evidence surrounding the crash. If anyone has information, he or she is asked to contact Scott Pace who is investigating. The number is 310-458-8954. Calls can also be made to the Santa Monica Police Department. The number is 310-458-8495.
---
---
Hire a Car Accident Attorney in Santa Monica
If you or a loved one has been injured in an auto collision, iAccident Lawyer strongly encourages you to call our Santa Monica car accident lawyers. Your experienced Car Accident Lawyer Santa Monica will provide you with the best legal representation and guidance that you need. Our offices are conveniently located throughout California and we conduct regular travels in the region to meet with clients. Contact Car Accident Lawyer today.