Santa Fe Springs, CA – Two-vehicle Collision on Slauson Avenue Causes Injuries
Posted on August 12, 2019 | Written By: iadminlaw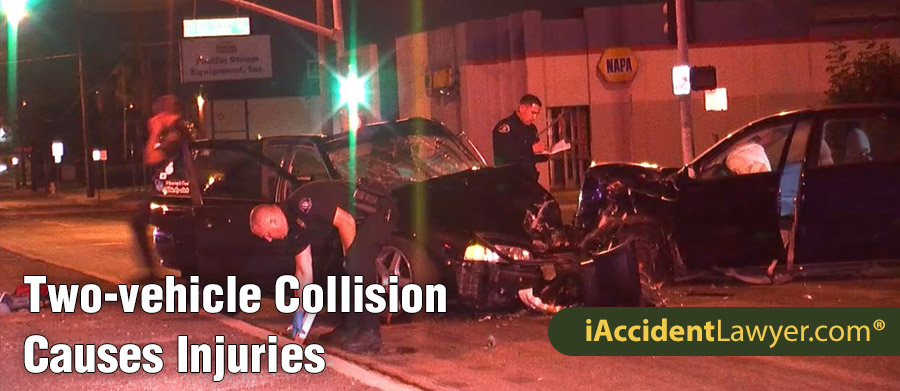 Two-vehicle Collision on Slauson Avenue in Santa Fe Springs Causes Injuries
SANTA FE SPRINGS, CA (August 12, 2019) – Two vehicles collided early in the morning on Sunday in Santa Fe Springs, causing injuries. The August 11 incident occurred on Slauson Avenue in the 11700 block.
The time was roughly 12:20 a.m., Aaron Ruiz said. Ruiz is a lieutenant with the Whittier Police.
Reports say two vehicles—described as a Toyota Camry and a Honda Accord—collided, but it is not known where each vehicle had been traveling prior to the crash. Reports do not say whether it was a rear-end, head-on, sideswipe, or broadside collision.
Responders arrived and took two people to the hospital. One of the victims was identified only as a male. His name, age, and city of residence has not been reported. The types of injuries he suffered, and his current condition, are not known.
The other victim who was transported to the hospital has not been identified, including name, age, gender, and city of residence. It is not known what types of injuries the person suffered, or the current condition.
Reports do not make clear if the two victims were drivers in the vehices involved in the collision, or if one or both had been passengers. It is not known if anyone else had been traveling in either of the vehicles when the incident occurred.
Investigators are working to understand the crash by continuing their effort to gather information.
---
---
Hire a Car Accident Attorney in Santa Fe Springs
If you or a loved one has been injured in an auto collision, iAccident Lawyer strongly encourages you to call our Santa Fe Springs car accident lawyers. Your experienced Car Accident Lawyer Santa Fe Springs will provide you with the best legal representation and guidance that you need. Our offices are conveniently located throughout California and we conduct regular travels in the region to meet with clients. Contact Car Accident Lawyer today.