Santa Ana, CA – Driver Suspected of DUI and Hit-and-run that Injured Woman is Arrested
Posted on April 25, 2019 | Written By: iadminlaw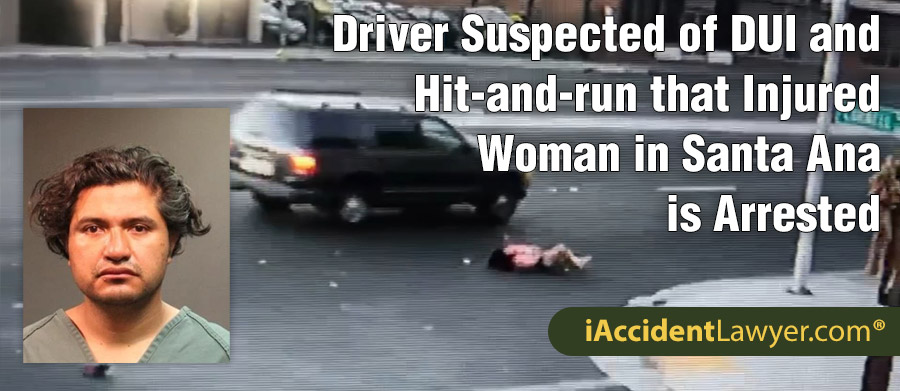 Driver Suspected of DUI and Hit-and-run that Injured Woman in Santa Ana is Arrested
SANTA ANA, CA (April 25, 2019) – A driver who is suspected of DUI and hit-and-run, which seriously injured a pedestrian early Wednesday morning, was arrested. The April 24 incident occurred on Standard Avenue.
According to the Santa Ana Police Department, sometime after midnight, an officer was traveling on Standard Avenue and heading south. He saw a person down on the road, close to Edinger Avenue. The officer stopped to helped the victim, who was not breathing or conscious.
Respondents arrived from the Orange County Fire Authority and transported the woman to a hospital in the area. Her injuries were described as critical. Her identity, including her name, age, and city of residence, has not been reported.
Reports say that officers who were investigating the incident discovered a vehicle with significant damage to the front, located in the area near the incident. No one was in the vehicle. Officers observed a person who was walking away from the site's vicinity. Officers stopped the person and determined he was under the influence of a substance.
Surveillance video from cameras in the vicinity of the crash captured a person who police suspect was the man they had stopped who had been walking in the area. Video shows a person exiting the damaged car and leaving the site on foot not long before officers arrived.
Officers arrested the man—identified as Alberto Solano Diaz, 38 years old—on suspicion of DUI causing injury and hit-and-run. Alcohol may have been a factor in the crash, according to police.
If anyone has information regarding the incident, he or she should contact Corporal Brett Nelson. The number is 714-245-8208.
---
---
Hire a Car Accident Attorney in Santa Ana
If you or a loved one has been injured in an auto collision, iAccident Lawyer strongly encourages you to call our Santa Ana car accident lawyers. Your experienced Car Accident Lawyer Santa Ana will provide you with the best legal representation and guidance that you need. Our offices are conveniently located throughout California and we conduct regular travels in the region to meet with clients. Contact Car Accident Lawyer today.