San Luis Obispo, CA – Multiple Crashes on Highway 166 Cause Injuries and Road Closures and Santa Barbara Counties
Posted on December 27, 2019 | Written By: iadminlaw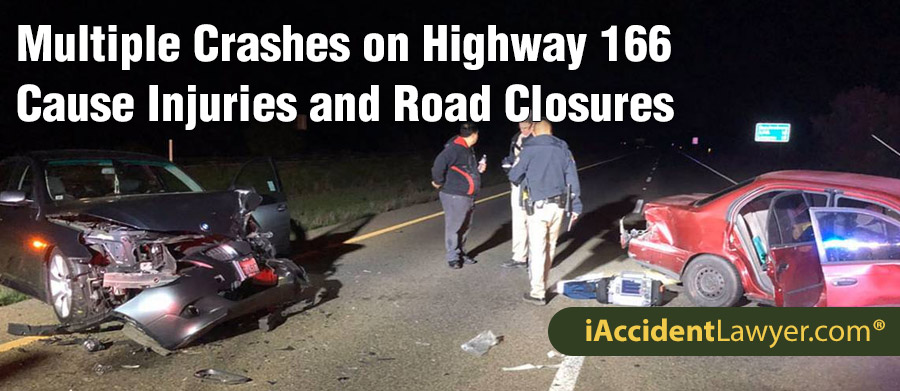 Multiple Crashes on Highway 166 Cause Injuries and Road Closures in San Luis Obispo and Santa Barbara Counties
SAN LUIS OBISPO AND SANTA BARBARA COUNTIES, CA (December 27, 2019) – Multiple crashes on Thursday on Highway 166 in San Luis Obispo and Santa Barbara Counties caused injuries and damage. The December 26 incidents occurred in various areas, and involved numerous vehicles.
One of the incidents involved three vehicles which collided in the Cuyama Valley, injuring several people. The incident occurred near Highway 33 a little before midday.
Reports say three vehicles—described as a pickup truck, a sedan, and a motor home—collided. Responders from Santa Barbara County Fire, Los Padres National Forest, Santa Barbara County Sheriff's Department, and the California Highway Patrol arrived on scene.
Responders had to work to extricate some of the victims from the wreck. It is not clear where the victims had been trapped, or which vehicle they had been traveling in.
According to reports, three of the victims suffered injuries that were described as moderate. Five of the victims suffered injuries that were described as minor.
None of the victims have been identified. The drivers of each vehicle have not been identified. It is not clear what led to the incident.
While responders were at work at the incident site, a subsequent crash was reported. Reports say that crash occurred near Highway 33 and to the east of it. A semi was involved, but no other information was available.
An earlier crash on Highway 166 near Kirschenmann Road sent one victim to a hospital. That crash involved a vehicle and a semi. The time was roughly 9:30 a.m. No one involved in that crash has been identified in reports.
Investigators are working to collect details and information regarding the incidents to understand the causes and factors that contributed.
---
---
Hire a Car Accident Attorney in San Luis Obispo and Santa Barbara Counties
If you or a loved one has been injured in an auto collision, iAccident Lawyer strongly encourages you to call our San Luis Obispo and Santa Barbara County car accident lawyers. Your experienced Car Accident Lawyer San Luis Obispo and Santa Barbara County will provide you with the best legal representation and guidance that you need. Our offices are conveniently located throughout California and we conduct regular travels in the region to meet with clients. Contact Car Accident Lawyer today.