San Diego, CA – Joseph Vito Berardino Killed in Crash on I-5
Posted on January 7, 2019 | Written By: iadminlaw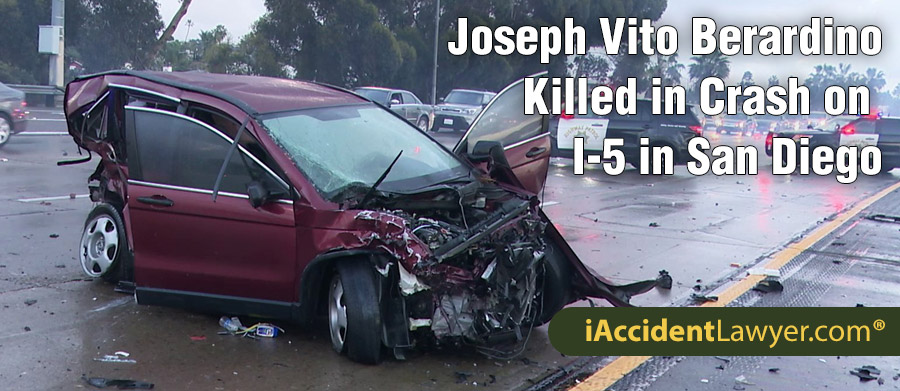 Joseph Vito Berardino Killed in Crash on I-5 in San Diego
SAN DIEGO, CA (January 7, 2019) – Joseph Vito Berardino was killed in a series of collisions on I-5 in San Diego early in the morning on Sunday. The January 6 accident occurred in the freeway's northbound lanes close to Clairemont Drive in the Mission Bay area.
The time was roughly 5:50 a.m.
According to the California Highway Patrol, Berardino—identified as a 48 year old—had been heading north on the freeway. He lost control of his vehicle, and hit the divider in the center of the road. After the initial crash, reports say that two other vehicles hit the vehicle Berardino had been traveling in. According to the Medical Examiner's Office, a third vehicle hit Berardino, and knocked him to the ground. It is not clear from reports if Berardino had exited his vehicle after the initial crash.
Reports say that a number of drivers stopped to help Berardino. Respondents arrived on scene and pronounced Berardino deceased.
It has not yet been reported what led to the first crash. The names, ages, gender, and cities of residence of the other drivers involved in the crash have not yet been reported, nor if any of the other vehicles had passengers at the time of the crash. It is not known if anyone else was hurt in the collisions, nor what types of vehicles were involved.
Investigators are looking into the information to understand what caused the incident. No other details are currently available.
---
---
Hire a Car Accident Attorney in San Diego
If you or a loved one has been injured in an auto collision, iAccident Lawyer strongly encourages you to call our San Diego car accident lawyers. Your experienced Car Accident Lawyer San Diego will provide you with the best legal representation and guidance that you need. Our offices are conveniently located throughout California and we conduct regular travels in the region to meet with clients. Contact Car Accident Lawyer today.