Sacramento County Car Accident Results in Fatality For 1 Local Pedestrian
Posted on March 16, 2023 | Written By: Lance Kirk
Car Accident near Daly Avenue Results in Fatality For Local Pedestrian In Sacramento County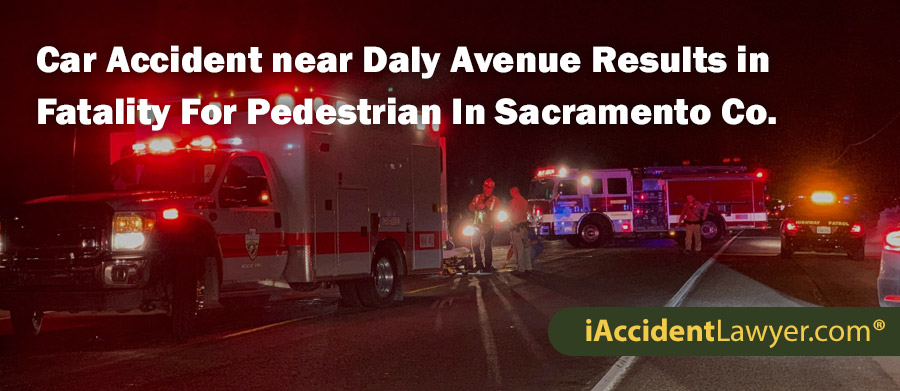 Sacramento County, CA (March 15, 2023) – Tuesday morning, one person was killed in a pedestrian crash on Antelope Road.
On March 14, at approximately 4:00 a.m., a fatal accident occurred in the Antelope area. The California Highway Patrol reported that a pedestrian was struck by a gray BMW traveling westbound on Antelope Road, which failed to stop or yield.
Sadly, the pedestrian sustained fatal injuries and was declared dead at the site of the accident. At this time, their identity has not been made available.
Sacramento County emergency crews arrived at the accident site shortly after the incident. Medical personnel pronounced the victim dead on the scene. As of now, officials have not disclosed the identity of the deceased pedestrian.
Meanwhile, the driver remained at the location and assisted investigators with their inquiries.
Sacramento County Officials have stated that intoxication was not a contributing factor in the Antelope Road pedestrian accident. Currently, no further details regarding the incident have been disclosed.
On behalf of everyone, here at iAccident Lawyer, we extend our most heartfelt condolences to the loved ones and family of the victim during this difficult time.

Something You Should Know About Fatal Pedestrian Accidents in California
Every year in California, fatal pedestrian accidents claim the lives of over 900 individuals. Many of these incidents occur due to driver negligence. It is crucial to understand what steps to take in the aftermath of losing a loved one in a fatal accident.
In California and Sacramento County, families have the legal right to file claims against negligent drivers following the loss of a loved one due to a fatal collision. A range of parties are entitled to file these claims, including the surviving spouse, children, parents, siblings, or anyone who relied on the victim for financial support prior to their passing.
If you are an eligible party, filing a compensation claim can help to alleviate some of the financial burdens you may face after the unexpected loss of a loved one. Some of the damages that you can recover include:
End-of-life costs: Following the loss of a loved one, you may be eligible to request compensation for end-of-life costs, such as funeral and burial expenses, as well as other related costs.
Lost earnings: If your loved one was the primary income earner for your family, you may be able to seek compensation to help cover the financial losses you have incurred from losing their source of income. This can include lost wages, benefits, and other related costs.
Loss of services: In addition to other compensation, claimants may pursue compensation for the loss of services they experience due to the death of a loved one. This can include household services, such as cleaning or laundry, or other responsibilities that were previously the responsibility of the deceased.
Loss of consortium: Loss of consortium is a type of damage that is available to compensate family members for the loss of companionship they experience after the death of a loved one. This can include a loss of affection, loss of parental guidance, or a general loss of companionship.
---
---
Hire an Accident Attorney in Sacramento
If you or a loved one has been injured in an auto collision, Accident Lawyer strongly encourages you to call our Sacramento County car accident lawyers. Your experienced Sacramento Car Accident Lawyer will provide you with the best legal representation and guidance that you need. Our offices are conveniently located throughout California and we conduct regular travels in the region to meet with clients. Contact Car Accident Lawyer today.
Accident News In Sacramento County, CA
Sacramento Police Vehicle Collides with Motorcycle Rider, Killing Him
Sacramento Crash on I-5 Kills a Worker for Caltrans Subcontractor
Sacramento Hit-and-Run Crash in Arden-Arcade Area Kills Pedestrian
Car Crases into Sacramento House On Morell Street, Killing One Man
Lance Kirk has been working as a Attorney at AA Accident Attorneys for 11 years. AA Accident Attorneys is part of the Law Firms & Legal Services industry, and located in California, United States.
I represent Plaintiffs for various injuries and various forms of injustice, such as sexual harassment. I have a natural competitive spirit and sense of courtesy and respect for my clients. My goal as an attorney is to make sure every client walks away with a sense of closure and satisfaction in a time when the judicial system has been questioned and is suffering from a lack of financial support. I enjoy fighting insurance companies who refuse to pay fair value for damages that changes peoples' lives forever.