Norwalk, CA – Multi-vehicle Crash on 605 Freeway Rosecrans Avenue Off-ramp Kills One
Posted on February 19, 2020 | Written By: iadminlaw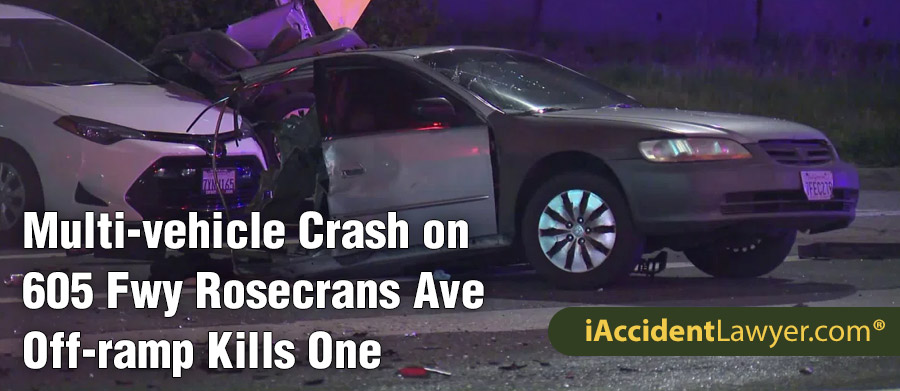 Multi-vehicle Crash on 605 Freeway Rosecrans Avenue Off-ramp in Norwalk Kills One
NORWALK, CA (February 19, 2020) –  A multi-vehicle crash on Tuesday night in Norwalk killed one person. The February 18 incident occurred on the off-ramp for Rosecrans Avenue from the 605 Freeway.
The time was roughly 8:40 p.m, according to Lieutenant Panis, who is with the Los Angeles County Sheriff's Department.
Reports say three vehicles collided. According to a person who had been driving a vehicle involved in the collision—identified as Charles Cooper—a Cadillac went through a light that was red and struck a Honda Accord's rear end. According to Cooper, a body was ejected from the Honda, and the victim struck Cooper's Ford Focus.
Reports say Cooper did not know what struck his vehicle until he opened the door and looked. The Honda was sheared in two, with the back cut off. Another vehicle—described as a Toyota—was at the accident site behind the Honda. It is not clear from reports how the Toyota was involved in the incident.
It is not known which vehicle the victim who was killed had been traveling in. The identity of the victim, including name, age, and city of residence, has not been reported. It is not known if the victim had been a driver or passenger.
The driver of the Cadillac sedan has not been identified in reports.
The driver of the Toyota has also not been identified. It is not known if anyone else was hurt in the crash.
Investigators are continuing work to collect information and evidence regarding the crash. They are working to understand the sequence of events related to the incident.
---
---
Hire a Car Accident Attorney in Norwalk
If you or a loved one has been injured in an auto collision, iAccident Lawyer strongly encourages you to call our Norwalk car accident lawyers. Your experienced Car Accident Lawyer Norwalk will provide you with the best legal representation and guidance that you need. Our offices are conveniently located throughout California and we conduct regular travels in the region to meet with clients. Contact Car Accident Lawyer today.