Norco, CA – Daniel Llamas Dies in Crash on I-15 Freeway Near Second Street
Posted on August 22, 2018 | Written By: iadminlaw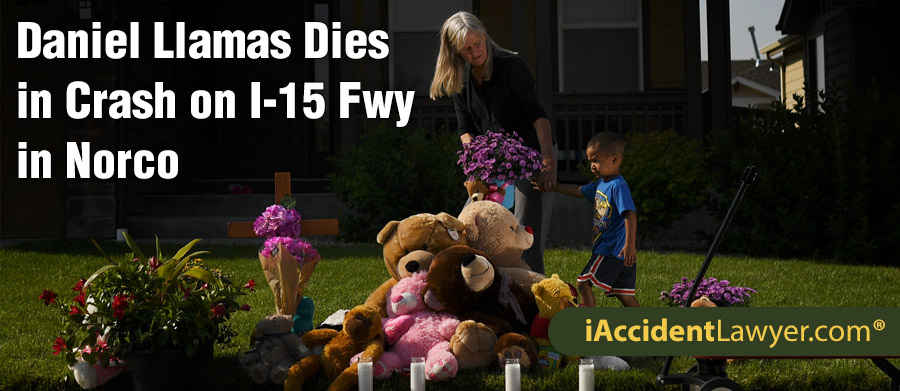 Daniel Llamas Dies in Crash on I-15 Freeway in Norco
NORCO, CA (August 22, 2018) – Daniel Llamas died early Sunday morning in a crash on the I-15 Freeway in Norco. The 41-year-old resident of Garden Grove had been driving a 1989 Toyota Tacoma on the freeway when the crash happened a little after 7:00 a.m.
According to reports, Llamas' pickup truck swerved down onto an embankment and rolled over on the steep slope that is located beside the freeway.
The accident site was located on the southbound side of the freeway, near Second Street.
Llamas had been driving in the number 3 lane, California Highway Patrol says, and his truck went out of control. The truck then swerved across the lane next to it, and traveled down the dirt shoulder.
Llamas' pickup truck then went down the slope of the embankment, struck a tree, and overturned. The crash threw Llamas from his truck.
Responders from Riverside County Fire Department pronounced Llamas deceased at the scene of the accident.
Investigators are continuing their search into what caused the accident.
---
---
Hire a Car Accident Attorney in Norco
If you or a loved one has been injured in an auto collision, iAccident Lawyer strongly encourages you to call our Norco car accident lawyers. Your experienced Car Accident Lawyer Norco will provide you with the best legal representation and guidance that you need. Our offices are conveniently located throughout California and we conduct regular travels in the region to meet with clients. Contact Car Accident Lawyer today.