Michael Valladares, 29, Hit and Killed by Tractor-Trailer on 91 Fwy In Riverside
Posted on June 16, 2023 | Written By: Corey Higgins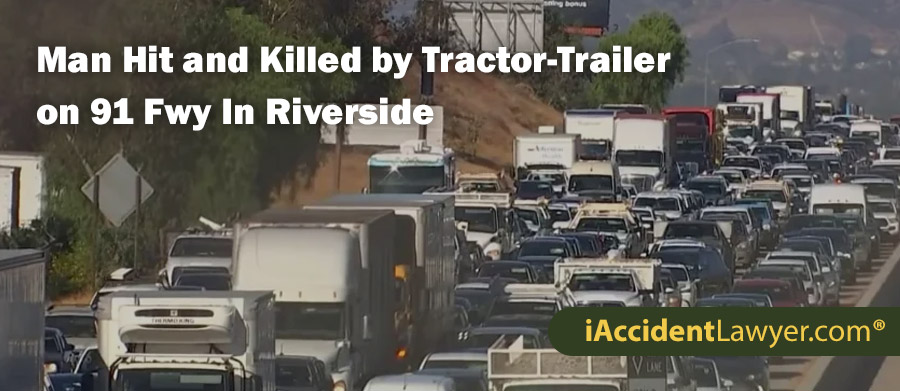 Truck Driver Unable To Avoid Hitting Michael Valladares on 91 Fwy
Riverside, CA (June 14, 2023) – A fatal accident on Monday afternoon claimed the life of Michael Valladares, who was struck by a tractor-trailer in Riverside. The incident occurred at approximately 12:25 p.m. on June 12, on the eastbound lanes of the 91 Freeway, just west of Tyler Street.
The California Highway Patrol (CHP) reported that Michael Valladares attempted to cross the eastbound side of the freeway. He successfully made it through at least one lane before running in front of the approaching tractor-trailer.
Riverside First Responders Were Unable To Save Michael Valladares
In a desperate effort to avoid the collision, the driver of the tractor-trailer immediately applied the brakes upon sighting Michael Valladares. Unfortunately, despite the driver's best efforts, he was unable to halt the vehicle in time to prevent the tragedy from unfolding.
First responders from the Riverside Fire Department swiftly arrived at the scene in response to the distressing incident. Tragically, upon assessment, Michael Valladares was pronounced dead on-site by the emergency crews.
An Investigation Continues In The Death of Michael Valladares
Michael Valladares, a 29-year-old resident of Hemet, is mourned by his loved ones in the wake of this devastating accident.
Currently, it remains uncertain whether drugs or alcohol played a role in the incident. A thorough investigation is currently underway to determine the circumstances leading up to the collision and to shed light on any contributing factors.

---
Location Where Michael Valladares Lost His Life On The 91 Freeway In Riverside, CA
---
Why It is Dangerous For Pedestrians To Cross The 91 Freeway
Crossing the 91 freeway on foot is extremely dangerous due to several factors:
High-speed traffic: Freeways are designed for high-speed travel, typically with speed limits ranging from 55 to 75 mph (88 to 120 km/h) or even higher in some areas. Vehicles traveling at such various rates of speed can make it very difficult to judge each car's approach in different lanes, leaving very little time for pedestrians to react and safely cross the road.
Limited visibility: The 91 Freeway has multiple lanes, wide medians, and barriers that can obstruct the visibility of both pedestrians and drivers. This limited visibility makes it challenging for drivers to spot pedestrians attempting to cross, increasing the risk of collisions.
Lack of pedestrian infrastructure: Freeways are primarily designed for vehicle traffic and lack proper infrastructure for pedestrians. They typically lack designated crosswalks, pedestrian signals, sidewalks, or pedestrian-friendly features. Without these infrastructure elements, pedestrians have no safe and designated path to cross the freeway.
On-ramps and off-ramps: Freeways have on-ramps and off-ramps where vehicles enter and exit the highway at higher speeds. These areas are particularly hazardous for pedestrians, as drivers may not anticipate or be prepared to stop for pedestrians crossing the road.
Higher chance of human error: Crossing the 91 freeway on foot requires pedestrians to accurately judge the speed and distance of approaching vehicles, which can be challenging. Human errors in estimating vehicle speeds or gaps in traffic can have severe consequences when attempting to cross a high-speed roadway.
Legal restrictions: In many jurisdictions, it is illegal to cross a freeway on foot, except in designated pedestrian overpasses, underpasses, or crosswalks specifically constructed for that purpose. Violating these laws not only puts pedestrians at risk but also exposes them to potential legal consequences.
Given these dangers, pedestrians should always seek safe alternatives to crossing freeways on foot. Utilize designated pedestrian crossings, bridges, or underpasses, and when no other option is available, consider alternative transportation methods such as public transit or arranging for a safe ride.
Hire an Accident Attorney Near Riverside
If you or a loved one has been injured in an auto collision, Accident Lawyer strongly encourages you to call our Riverside car accident lawyers. Your experienced Car Accident Lawyer will provide you with the best legal representation and guidance that you need. Our offices are conveniently located throughout California and we conduct regular travels in the region to meet with clients. Contact Car Accident Lawyer today.
Latest Accident News In Riverside, CA
Riverside Single-Car Crash Seriously Injures 1 On 215 Freeway
Flying Tire Strikes and Kills Passenger on 91 Freeway in Riverside
Lisa Tuli Killed in Corona Multi-Car Crash on 91 Fwy
Corey Higgins has been working at Accident Attorneys' Group for 2 years. Accident Attorneys' Group is part of the Law Firms & Legal Services industry, and located in California, United States.
Accidental Attorney's Group provides personal injury and accident related legal services for the entire state of California. The Group serves injury victims of numerous types of accidents such as car, truck, personal injuries, dog bites, slip and fall and more.
Law School: Whittier Law School
Status: In Good Standing
Licensed: 14 years