Los Angeles, CA – Suspect Leads Police on Chase, Crashes into Vehicle in Watts With Five Children Aboard
Posted on November 1, 2018 | Written By: iadminlaw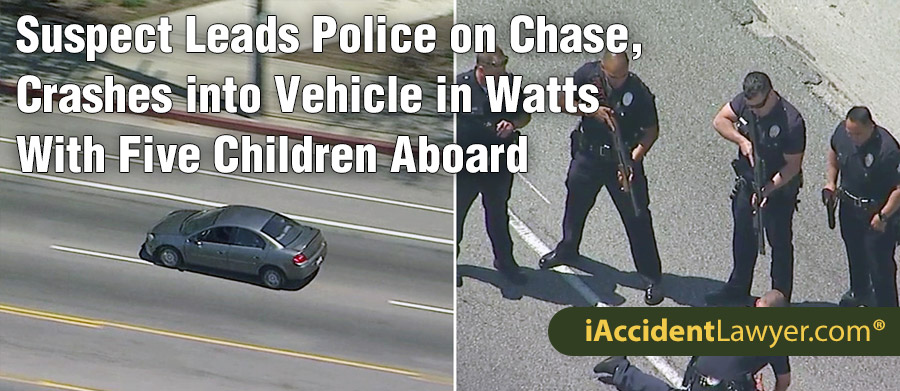 Suspect Leads Police on Chase, Crashes into Vehicle in Watts With Five Children Aboard
LOS ANGELES, CA (November 1, 2018) – A suspect who lead police on a chase Wednesday night collided with a vehicle in Watts that had five children aboard.
According to reports, officers received a report of a driver that may have been driving under the influence. The suspect driver fled police, and crashed into two vehicles, described as a white SUV and a red vehicle.
In the white SUV, a father was traveling with five passengers, who were his children. Reports say that the father experienced something hit his vehicle.
Reports say the suspect driver fled on foot, running on the 105 Freeway. He tried to open the door of one vehicle, which took off. According to reports, the suspect driver came up to a different vehicle and vaulted onto the vehicle's hood. The suspect then blocked the vehicle from moving forward by lying in front of it.
Responders took the man's son, aged two months, to the hospital.
Officers arrested the suspect.
No other details have yet been reported on the accident.
---
---
Hire a Car Accident Attorney in Los Angeles
If you or a loved one has been injured in an auto collision, iAccident Lawyer strongly encourages you to call our Los Angeles car accident lawyers. Your experienced Car Accident Lawyer Los Angeles will provide you with the best legal representation and guidance that you need. Our offices are conveniently located throughout California and we conduct regular travels in the region to meet with clients. Contact Car Accident Lawyer today.