Lakewood Car Crashes into McDonald's Injuring 2 People
Posted on September 10, 2023 | Written By: Corey Higgins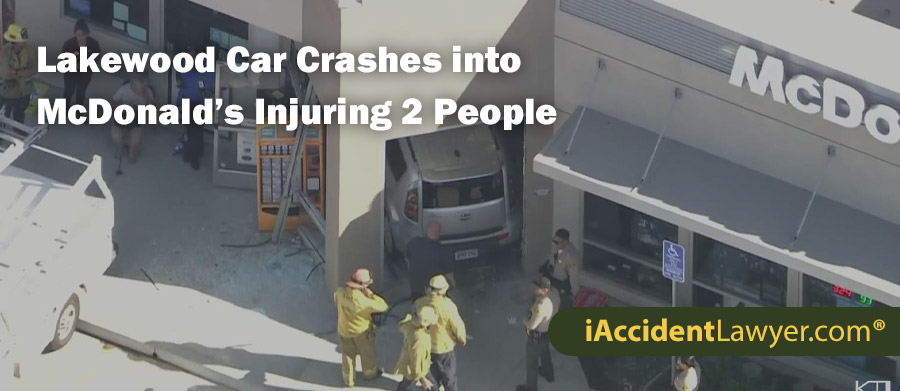 Car Crashes into Lakewood McDonald's Injuring 2 People
Lakewood, CA (September 7, 2023) – A car accident occurred on North Bellflower Boulevard in Lakewood on the afternoon of September 7, resulting in minor injuries to two individuals. The incident, which unfolded around 4:05 p.m., involved an unknown vehicle colliding with a McDonald's restaurant located in the 5700 block of N Bellflower Boulevard.
2 Hurt in Car Accident on North Bellflower and Del Amo Boulevard
According to the Los Angeles County Fire Department, both occupants of the vehicle sustained minor injuries in the collision. Fortunately, neither of them became trapped within the vehicle or the building following the accident. Additionally, there were no reports of significant structural damage to the establishment.
The exact circumstances leading to the crash remain unclear at this time, but aerial footage revealed that the vehicle struck the side of the building adjacent to an ExtraMile store.
An ongoing investigation is actively seeking to determine the cause of the accident and gather further details.
---
Location Where a Car Crashed Into A McDonald's Restaurant
---
Hire an Accident Attorney Near Lakewood
If you or a loved one has been injured in an auto collision, Accident Lawyer strongly encourages you to call our Lakewood car accident lawyers. Your experienced Car Accident Lawyer will provide you with the best legal representation and guidance that you need. Our offices are conveniently located throughout California and we conduct regular travels in the region to meet with clients. Contact Car Accident Lawyer today.
Recent Accident News Near Lakewood, CA
Fiery Car Crash on 710 Fwy Kills 5 In Long Beach
CHP Officer Injured in Pursuit of Reckless Driver Leads to Rollover Crash in Long Beach
Geronimo Reynaga Killed in Rollover Accident on PCH in Long Beach
Corey Higgins has been working at Accident Attorneys' Group for 2 years. Accident Attorneys' Group is part of the Law Firms & Legal Services industry, and located in California, United States.
Accidental Attorney's Group provides personal injury and accident related legal services for the entire state of California. The Group serves injury victims of numerous types of accidents such as car, truck, personal injuries, dog bites, slip and fall and more.
Law School: Whittier Law School
Status: In Good Standing
Licensed: 14 years