Indio, CA – Two People Suffer Major Injuries Crash
Posted on January 4, 2019 | Written By: iadminlaw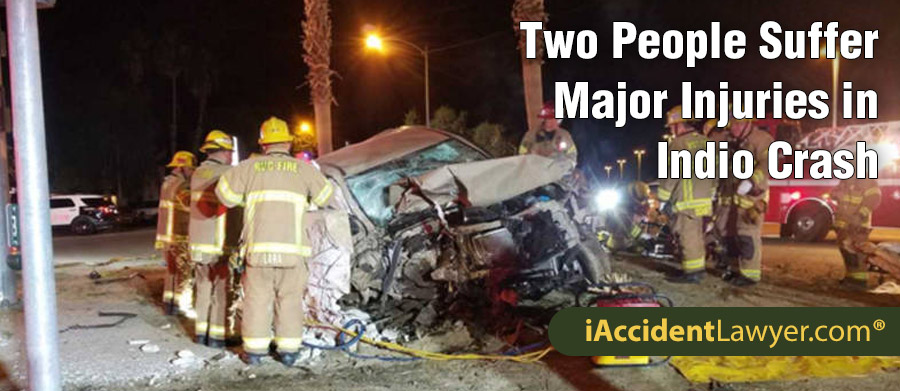 Two People Suffer Major Injuries in Indio Crash
INDIO, CA (January 4, 2019) – Two people suffered major injuries in a crash in Indio early in the morning on Friday. The January 4 accident occurred on Hoover Street near Monroe Street.
The time was a bit after 2:00 a.m., Cal Fire Riverside said.
According to reports, two vehicles collided, injuring two people and damaging a power line in the area. Respondents arrived on scene and had to cut one person from a wrecked vehicle. Respondents took the victim by airlift to a hospital. The person's name, age, gender, and city of residence have not yet been reported. It is not known from reports what kind of injuries the person suffered, and the person's current condition. The type of vehicle the person was traveling in, and if the person was a driver at the time of the accident, has not yet been reported.
A second person also suffered injuries that were serious, and respondents took the victim to a hospital in the area. The name, age, gender, and city of residence of the second victim have not yet been reported. It is not known from reports what injuries the second person suffered, and what the condition is currently of the second victim. It has not yet been reported what vehicle the second victim was traveling in and what type it is, and if the second victim was a driver at the time the accident occurred. It is also not yet known if there were any other people traveling as occupants in the vehicles at the time of the crash.
Crews from the Imperial Irrigation District arrived on scene to repair the damaged power line. Reports say that customers did not experience a power outage from the downed line.
Investigators are examining the data and evidence to find out what caused the crash.
---
---
Hire a Car Accident Attorney in Indio
If you or a loved one has been injured in an auto collision, iAccident Lawyer strongly encourages you to call our Indio car accident lawyers. Your experienced Car Accident Lawyer Indio will provide you with the best legal representation and guidance that you need. Our offices are conveniently located throughout California and we conduct regular travels in the region to meet with clients. Contact Car Accident Lawyer today.