Fresno, CA – Driver Suspected of Road Rage Runs Over Woman in Costco Parking Lot
Posted on September 20, 2019 | Written By: iadminlaw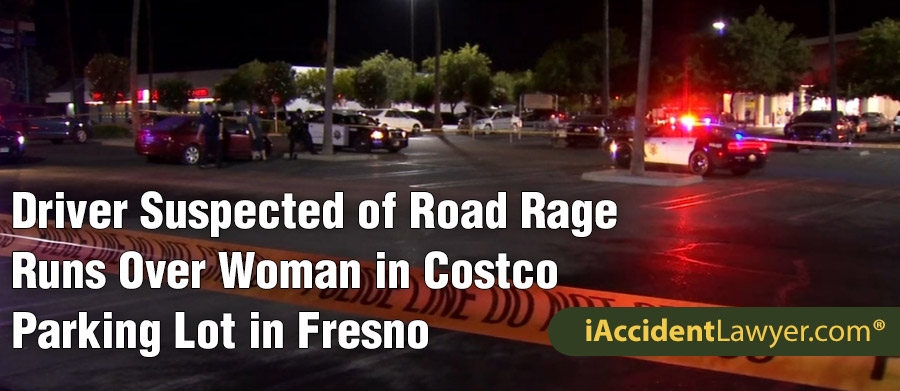 Driver Suspected of Road Rage Runs Over Woman in Costco Parking Lot in Fresno
FRESNO, CA (September 20, 2019) – On Tuesday night, a driver suspected of road rage struck and injured a woman in a Costco parking lot in Fresno. The September 17 incident occurred after the suspected driver is alleged to have followed the victim and another person into the parking lot.
According to Fresno police, the incident began when the suspected driver—identified only as a woman—began to pursue a man and woman close to where Gates and Blythe intersect. The suspect may have been cut off on the road.
The suspect driver is reported to have tailgated the two victims—a man and a woman—who drove to the parking lot at Costco to flee. Reports say the woman confronted the suspect driver after their vehicle was parked, and the suspect backed up into the woman and ran her over.
Police said the man who was with the woman attempted to stop the suspect driver. According to Charlie Chamalbide, who is a lieutenant with the Fresno Police, the man grasped a wrench and broke the suspect driver's window. The suspect driver then left.
Responders transported the injured woman to a hospital. The types of injuries she suffered, and her current condition, is not known. Her identity has not been reported. The identity of the man who was with her has also not been reported.
According to police, the suspect driver turned herself in moments after she left.
Investigators are working to understand the circumstances of the incident.
---
---
Hire a Car Accident Attorney in Fresno
If you or a loved one has been injured in an auto collision, iAccident Lawyer strongly encourages you to call our Fresno car accident lawyers. Your experienced Car Accident Lawyer Fresno will provide you with the best legal representation and guidance that you need. Our offices are conveniently located throughout California and we conduct regular travels in the region to meet with clients. Contact Car Accident Lawyer today.