Escondido, CA – Man Injured When Teen Crashes Pickup Truck into His Home
Posted on July 17, 2019 | Written By: iadminlaw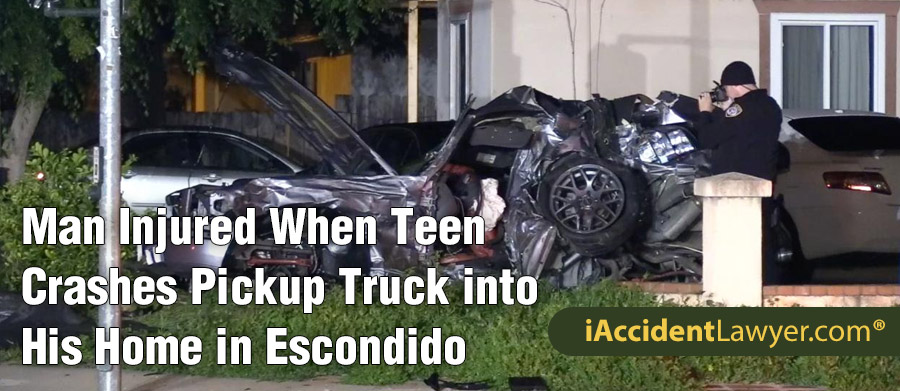 Man Injured When Teen Crashes Pickup Truck into His Home in Escondido
ESCONDIDO, CA (July 17, 2019) – Late on Tuesday afternoon, a man who had been asleep in his home's garage in Escondido was injured when a teenaged driver crashed a pickup truck into it. The July 16 incident occurred on South Maple Street in the 1700 block.
The time was roughly a little after 5:00 p.m., the Escondido Police said.
Reports say the teenaged boy—identified as 15 years old—had been driving the pickup truck on the driveway of the house. He stopped the vehicle in front of the garage where the door was closed.
However, according to reports, the driver failed to put the gear in park. He stepped on the accelerator rather than the brake pedal, and the truck shot into the gararge's door.
The garage door, constructed of metal, came down, and hit a man who had been asleep inside. The man was stuck beneath the fallen garage door.
Responders arrived and extricated the victim. They transported to a hospital, where he received treatment for back injuries that were described as severe. Reports say his condition is stable.
The victim's identity, including his name and age, have not been reported.
The boy, who was not a licensed driver, was not hurt in the incident. Inside the pickup as a passenger was the boy's sister, age 17. She was also not hurt, reports say. It is not known from reports if the two who were in the truck were residents of the home where the man was injured.
Investigators are continuing to examine the details and information regarding the incident.
---
---
Hire a Car Accident Attorney in Escondido
If you or a loved one has been injured in an auto collision, iAccident Lawyer strongly encourages you to call our Escondido car accident lawyers. Your experienced Car Accident Lawyer Escondido will provide you with the best legal representation and guidance that you need. Our offices are conveniently located throughout California and we conduct regular travels in the region to meet with clients. Contact Car Accident Lawyer today.