Escondido, CA – Driver Intentionally Crashes into Subway Restaurant
Posted on October 31, 2018 | Written By: iadminlaw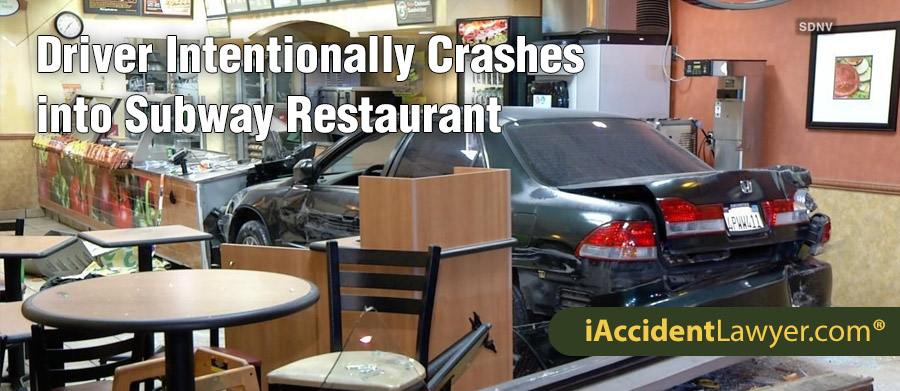 Driver Intentionally Crashes into Subway Restaurant in Escondido
ESCONDIDO, CA (October 31, 2018) – A woman intentionally drove into a Subway restaurant in Escondido early in the morning on Tuesday. The October 30 incident occurred on East Valley Parkway, according to Ryan Banks. Banks is a sergeant with the Escondido Police.
The time was a little after 12:45 a.m.
According to police, the driver—identified as a woman 22 years old—crashed a vehicle, described as a Honda sedan, into the restaurant and then tried to fight with one of the two people working there.
Police arrested the driver on suspicion of assault with a deadly weapon.
Neither of the employees suffered injuries. The suspect suffered injury to her wrist, reports say, and responders took her to Palomar Medical Center.
The identity of the woman has not been reported. The woman may have had an earlier argument with one of the people who worked at the restaurant, reports say, but what the argument was about has not been reported.
---
---
Hire a Car Accident Attorney in Escondido
If you or a loved one has been injured in an auto collision, iAccident Lawyer strongly encourages you to call our Escondido car accident lawyers. Your experienced Car Accident Lawyer Escondido will provide you with the best legal representation and guidance that you need. Our offices are conveniently located throughout California and we conduct regular travels in the region to meet with clients. Contact Car Accident Lawyer today.