Ensure Safety on Your Next Motorcycle Ride
Posted on June 13, 2018 | Written By: iadminlaw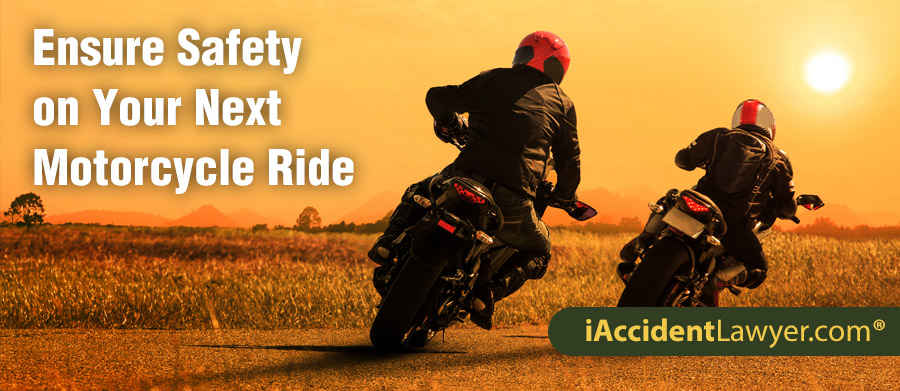 In sunny weather, many motorcyclists are eagerly taking their bikes out for long rides. Riding a motorcycle can be lots of fun, but it also comes with safety risks. Accidents happen, and the majority of motorcycle accidents result in serious injury. According to the motorcycle accident lawyers at I Accident Lawyer, it's imperative for motorcyclists to do anything and everything they can to ensure their own safety.
Safety Tips from Our Motorcycle Accident Attorneys
Our motorcycle experts have passed along a few tips to help riders put safety first.
Make sure you have the appropriate gear. Hopefully, you don't need to be reminded of the importance of wearing a helmet and other protective padding. At the same time, we recommend long leather pants and sleeves, as well as strong, sturdy boots. Gloves and eye protection can also help keep you safe while you ride.
Ensure that you are visible to other motorists. First, you should always wear bright colors and reflective elements—no matter the time of day. Our motorcycle accident attorneys also recommend keeping your headlight on—again, regardless if it's day or night. And, stick to a section of road that makes it easy for other motorists to see what you're doing at all times.
Be alert at all times. Distracted driving is one of the leading causes of highway accidents—and sadly, motorcycle riders are not exempt from this. Don't text or check social media while you ride! Be ready to shift lanes or to adapt to activity on the road at any time.
Stay vigilant in intersections. According to the motorcycle accident lawyers on our team, most such wrecks take place in intersections—so be on high alert. Cars turning left tend to pose the biggest threat to cyclists.
Be mindful of bad weather. Riding a motorcycle in the rain can pose some special challenges—slick roads, impaired visibility, etc. Ideally, it's best to stay out of this kind of weather. At the very least, read up on some tips from other motorcycle riders, and learn how they maintain safety and control in the elements.
Don't speed and don't drink. This one's simple: Speeding puts your life and the lives of other motorists at risk. Drinking while driving/riding is even worse. Have a no-tolerance approach to either of these behaviors. Keep your wits about you whenever you're on your bike.
Take some classes. If you're new to riding motorcycles, it's worth looking into some safe riding courses that are being offered in your area. Actually, there are even some good online training courses you can find, which will help you ride with safety as your foremost concern.
Know the name of a good motorcycle accident lawyer. Hopefully, these tips will help you stay safe while you ride—but accidents do happen, and it's important to be prepared for all contingencies. One way you can do that is to always have the name of a good motorcycle accident attorney handy, just in case worst comes to worst.
Contact a Motorcycle Accident Attorney Today
At I Accident Lawyer, we have a full team of car accident lawyers and motorcycle accident lawyers whose job is to represent those who have been involved in accidents—period. We don't ever represent insurance companies; we only represent the people who really need our help the most—everyday drivers and motorcyclists.
If you need a qualified and attentive motorcycle accident lawyer, we invite you to reach out to us. I Accident Lawyer is available to consult on your case around the clock. Call us today to set up a consultation.