Corona, CA – Hit-and-run Driver Strikes Motorcyclist; Pushes Crushed Bike down 91 Freeway While Fleeing
Posted on June 23, 2020 | Written By: iadminlaw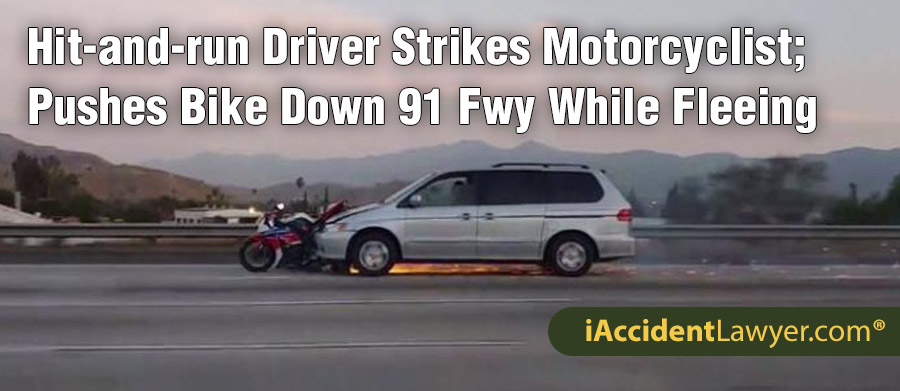 Hit-and-run Driver Strikes Motorcyclist in Corona; Pushes Crushed Bike down 91 Freeway While Fleeing
CORONA, CA (June 23, 2020) – A hit-and-run driver struck a motorcyclist in Corona on Friday night, and pushed the crushed bike along the 91 Freeway as he fled. The June 19 incident occurred on the eastbound side of the freeway, near the 15 Freeway and to the west of it.
The time was roughly 8:00 p.m., the California Highway Patrol said.
Reports say video of the incident was recorded by a witness–identified as Will Panda. According to reports, the motorcyclist was struck from the rear by a minivan. The impact of the crash threw the rider from the bike.
After the crash, video captured the minivan continuing on the freeway and pushing the motorcycle forward, with sparks flying. The minivan took the McKinley Street exit off the freeway. According to reports, the minivan was recorded on video smashing into a fence, and stopping.
Responders arrived and provided aid to the motorcyclist, who was down on the freeway's right shoulder. According to the Highway Patrol, the injuries the person suffered were described as minor. The identity of the rider has not been reported.
According to reports, authorities arrested the suspect driver some time after the crash. The suspect driver was identified as George Cesar Valentin, 25 years old.
Investigators are continuing the work of gathering information and details.
---
---
Hire a Car Accident Attorney in Corona
If you or a loved one has been injured in an auto collision, iAccident Lawyer strongly encourages you to call our Corona car accident lawyers. Your experienced Car Accident Lawyer Corona will provide you with the best legal representation and guidance that you need. Our offices are conveniently located throughout California and we conduct regular travels in the region to meet with clients. Contact Car Accident Lawyer today.