Beaumont, CA – Enrique Ramirez Sanchez Struck and Injured on Highway 79 While Responding to Tow Vehicle
Posted on February 27, 2020 | Written By: iadminlaw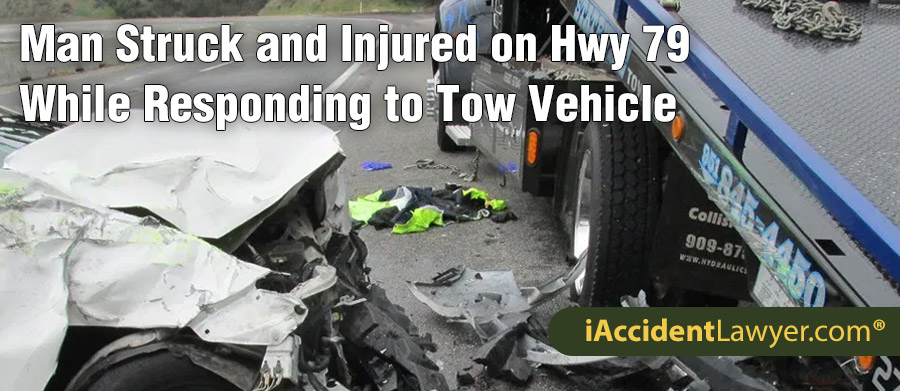 Man Struck and Injured on Highway 79 Near Beaumont While Responding to Tow Vehicle
BEAUMONT, CA (February 27, 2020) –  Enrique Ramirez Sanchez was struck and injured by a vehicle on Highway 79 near Beaumont as he was working to tow a vehicle on Sunday. The February 23 incident occurred near California Avenue.
The time was roughly a little before 10:00 a.m., according to the California Highway Patrol.
Reports say Sanchez had responded to an incident site where a single vehicle had crashed and overturned. Sanchez parked the tow truck he was driving on the road's shoulder, exited the truck, and was preparing to tow the damaged vehicle.
Another vehicle—described as a Toyota Corolla—which had been southbound on the road, went out of the driver's control for reasons that are not known. The Toyota struck the wall in the median, and then rebounded over the lanes and went onto the road's shoulder.
The Toyota hit the tow truck and Sanchez, California Highway Patrol said.
Responders arrived and took Sanchez to a hospital. The injuries he suffered were described as major. His current condition was described as stable. Sanchez is a resident of Banning.
The driver who hit Sanchez was identified only as a woman who is a resident of Riverside, 29 years old. Her name has not been reported. According to reports, authorities believe the driver had been going at a speed that was not safe on the wet road surface.
The person who had been the driver of the car that rolled over was not hurt, reports say.
Investigators are working to collect details and information.
---
---
Hire a Car Accident Attorney in Beaumont
If you or a loved one has been injured in an auto collision, iAccident Lawyer strongly encourages you to call our Beaumont car accident lawyers. Your experienced Car Accident Lawyer Beaumont will provide you with the best legal representation and guidance that you need. Our offices are conveniently located throughout California and we conduct regular travels in the region to meet with clients. Contact Car Accident Lawyer today.